Winter time makes it hard to grill pork chops, so why not try this stove top quick and easy recipe?
This is an elegant recipe that anyone can make in less than an hour.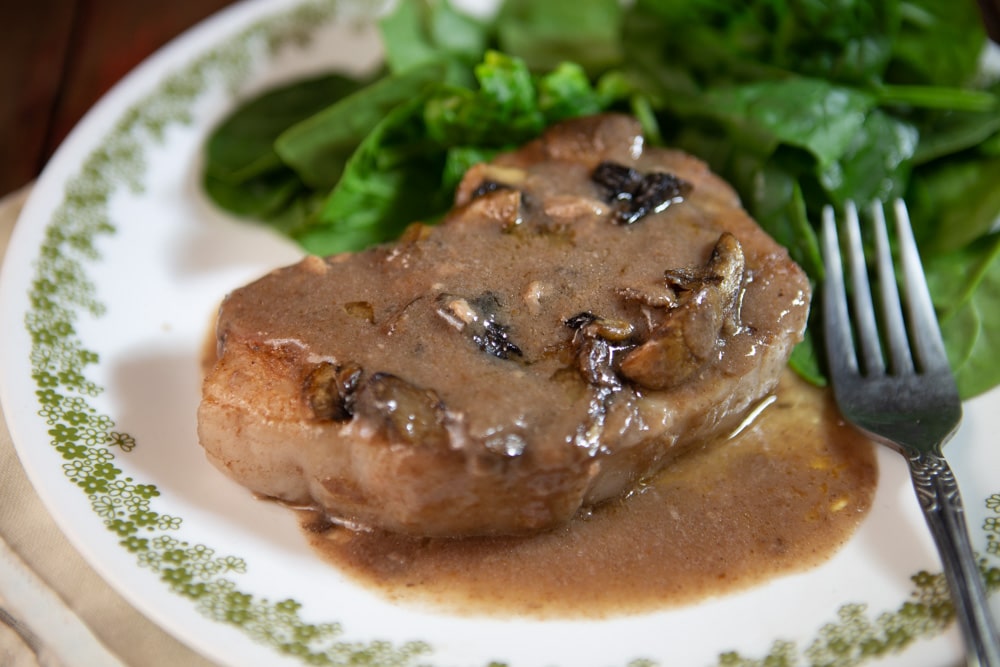 Ingredients:
Pork chops: I'd highly recommend farm fresh pork chops from your local farmer or from our farm store. The flavor will be better than anything you can find anywhere else.
Lard/pork fat/shortening: Any animal fat can be used in this recipe, even 100% grassfed beef or lamb, if you are blessed to be able to get any from your local farmer. You could use butter too, if you can tolerate dairy in small amounts.
Mushrooms: Of course, farm fresh is always best, but if you get them from the store, try to get whole mushrooms and slice them yourself. They will be fresher and have better flavor. Any type of mushroom will work.
Chicken broth: You can purchase this at your local store, or make it yourself from locally purchased chicken – either will work fine. It will add a little extra flavoring to your sauce.
Wine: I'm not a wine snob….other than sweet vs dry, I can't tell you much else about one vs another. For this recipe I used a red merlot and it was superb.
Herbs/seasonings: If you are able to get fresh spices, wonderful! Otherwise, any dried spices from your local grocery store will be perfect.
Substitutions:
If you would prefer to use butter in the recipe, it substitutes well for the recommended lard.
You could use 100% grassfed beef or lamb broth instead of of chicken.
Farm kitchen cooking tips:
We like to leave extra fat on our Berkshire pork chops, to add premium flavor to our meat. For this recipe, I would recommend cutting off the excess fat after searing the meat. It will make for a better eating experience after the sauce is added.
If you are able to create this recipe with Berkshire pork, you may be able to leave out the extra added lard/pork fat when making the sauce, since the pan may have enough in it already. Check the level of the grease in the pan and add more accordingly.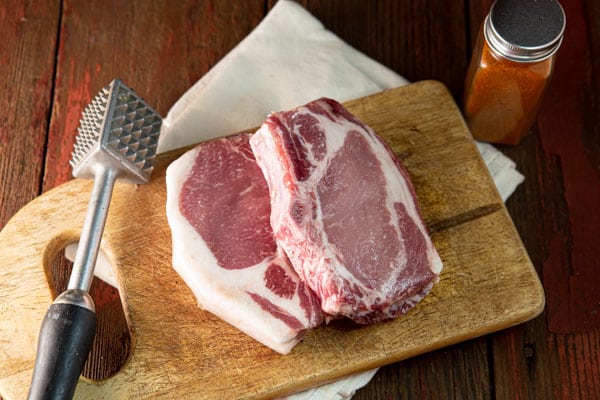 Equipment to use:
A frying pan – make sure it's big enough to fit your chops, as well as the sauce.
A bowl with a spout – I used a large measuring cup to mix up the broth. The spout makes it super easy to pour into the pan to make the sauce.
A whisk – essential for making your sauce creamy and keeping lumps from forming.
Storing leftovers:
Pork chops can be stored in the fridge in a sealed container for up to 4 days.
What goes well with pork chops:
A tasty spinach salad
Fried or raw green beans
Garlic and butter mashed potatoes
Baked winter squash
How to make these mushroom pork chops:
Salt your pork chops.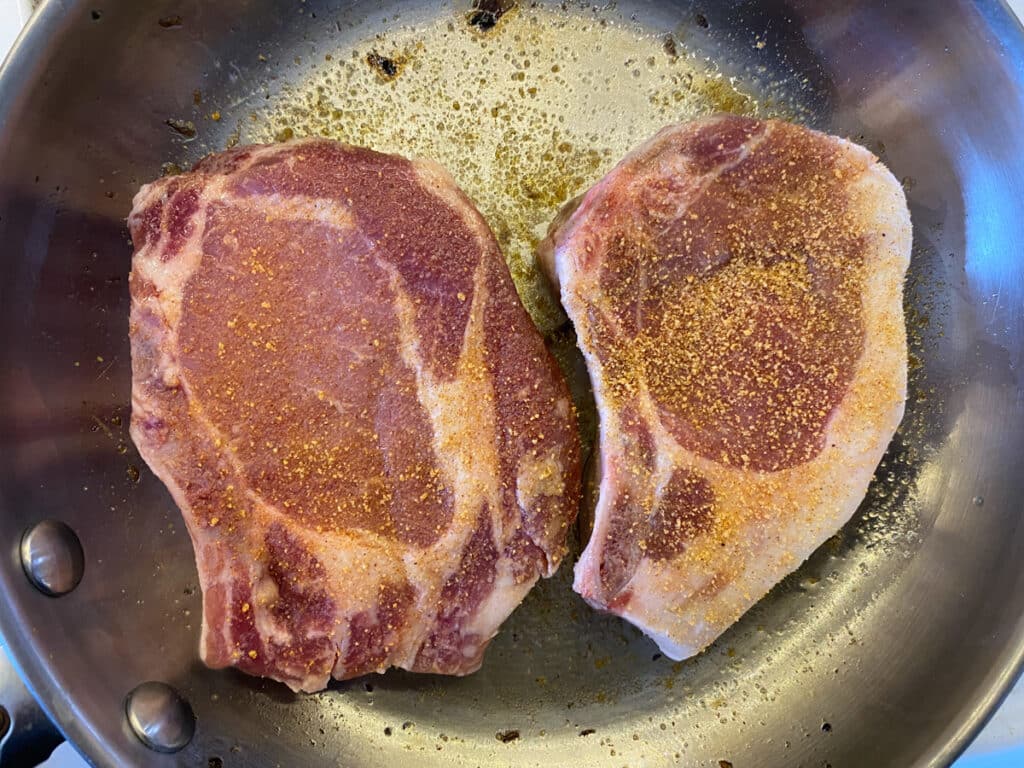 2. Mix your wine broth.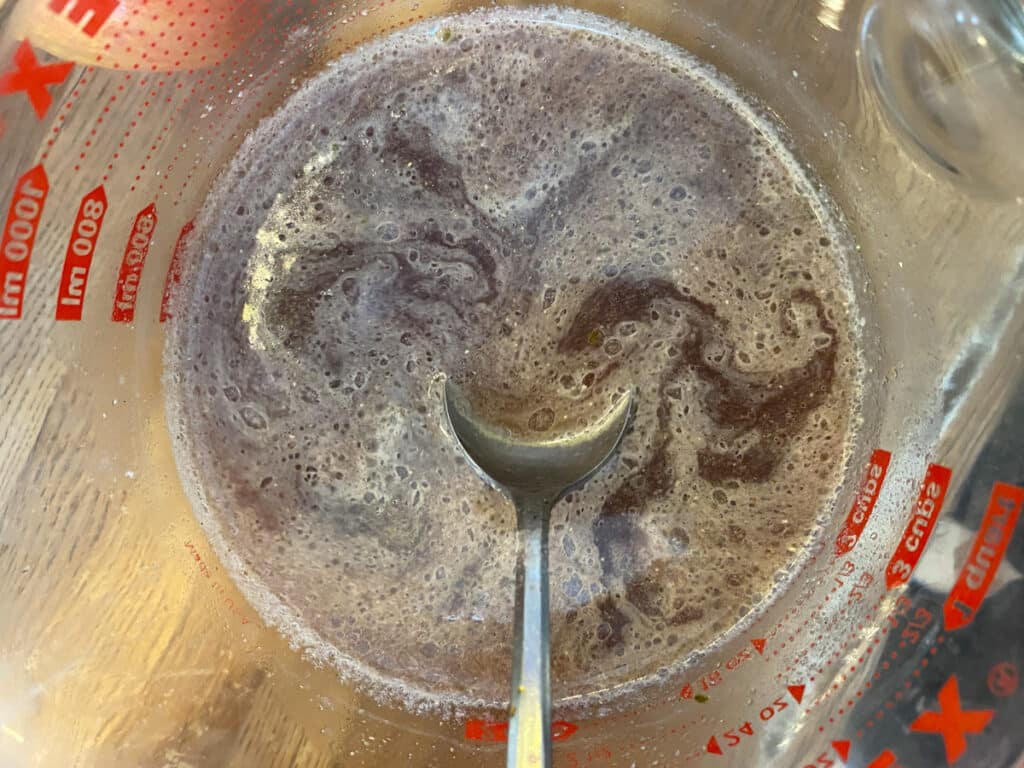 3. Sauté the mushrooms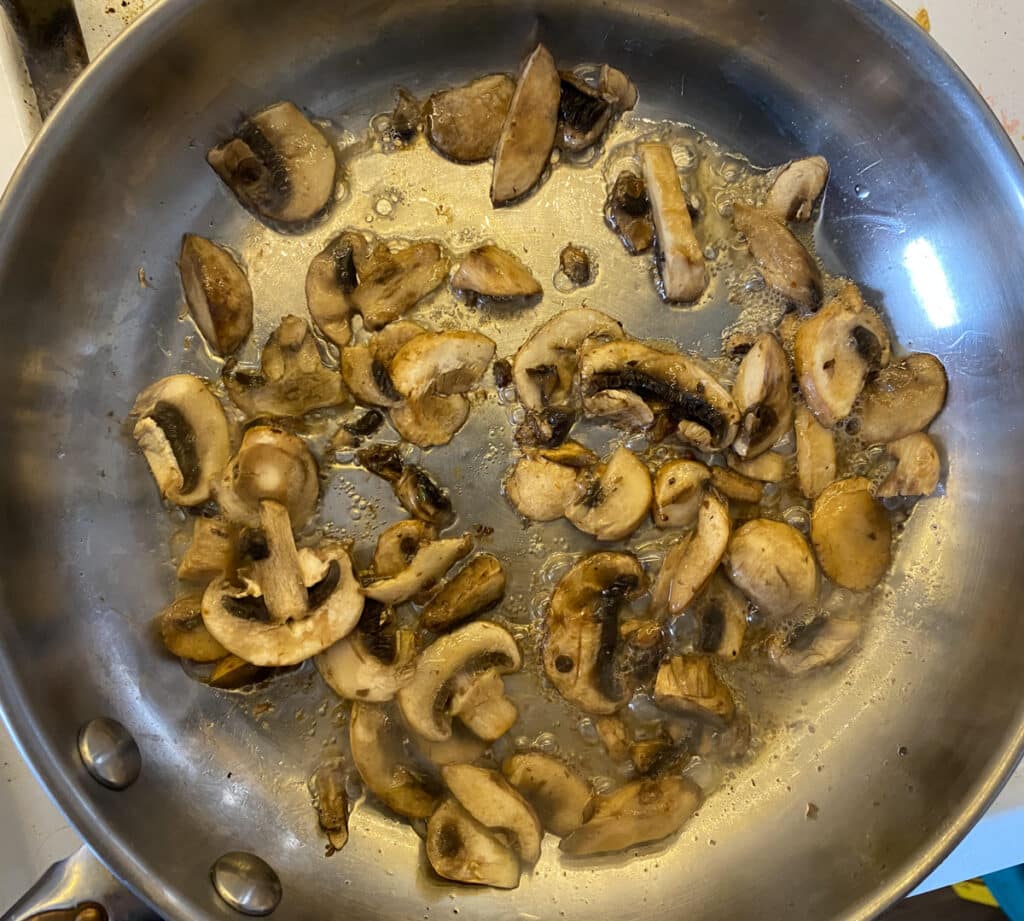 4. Sear your chops.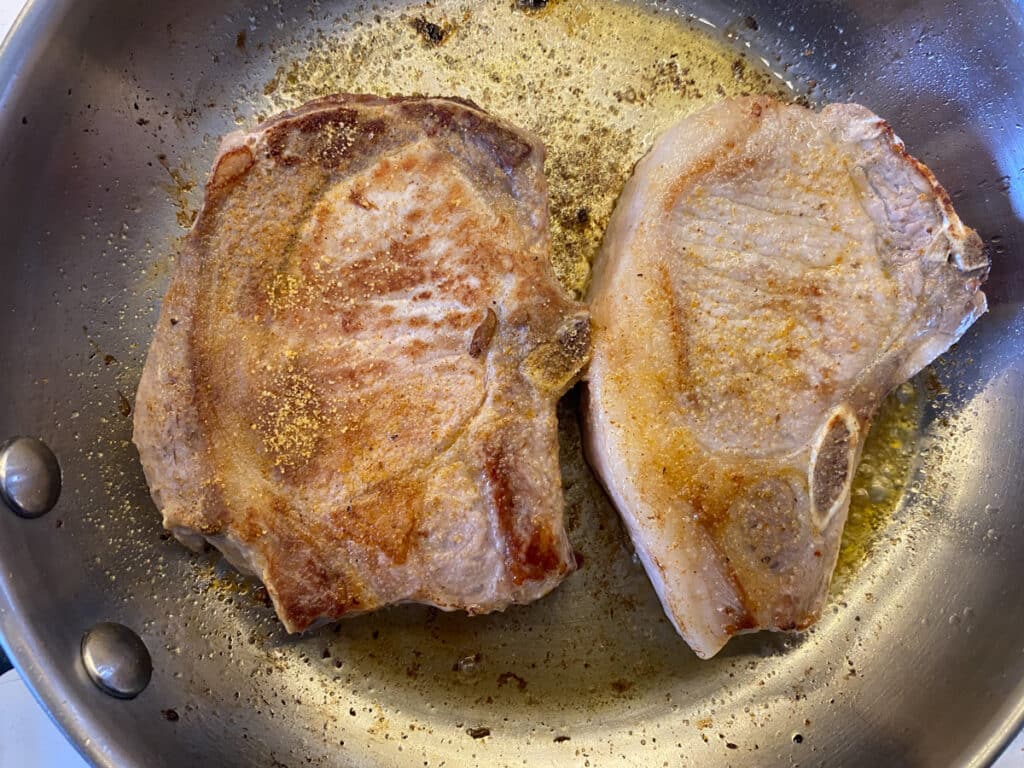 5. Create your roux (the flour and lard mix).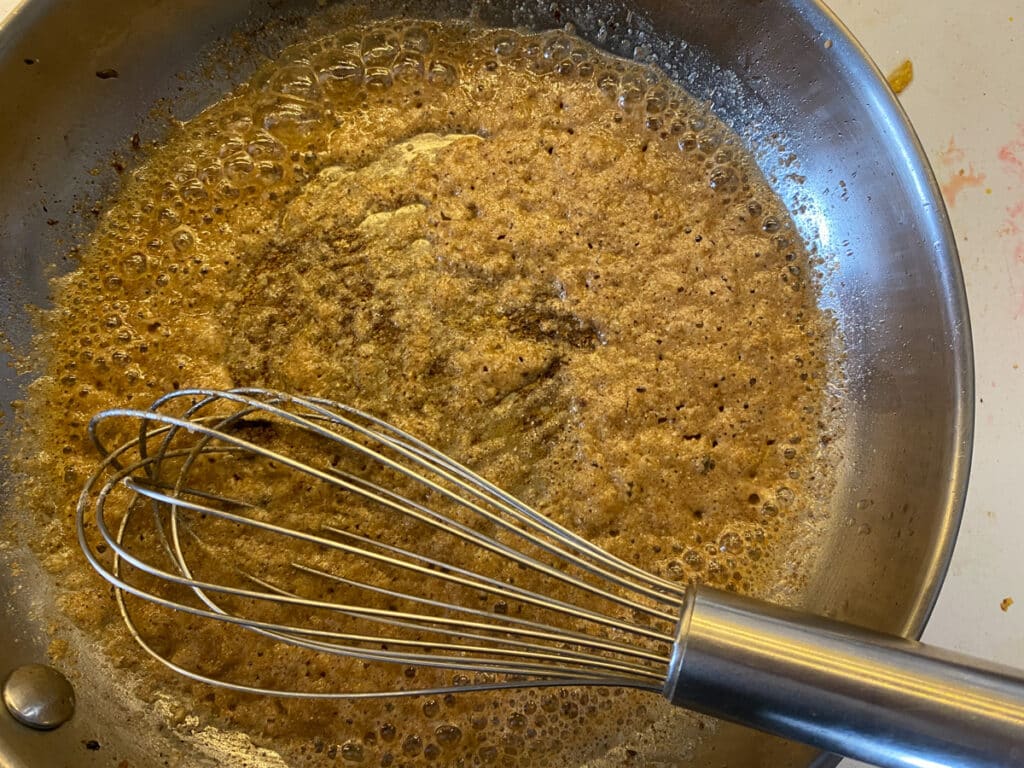 6. Thicken your wine broth.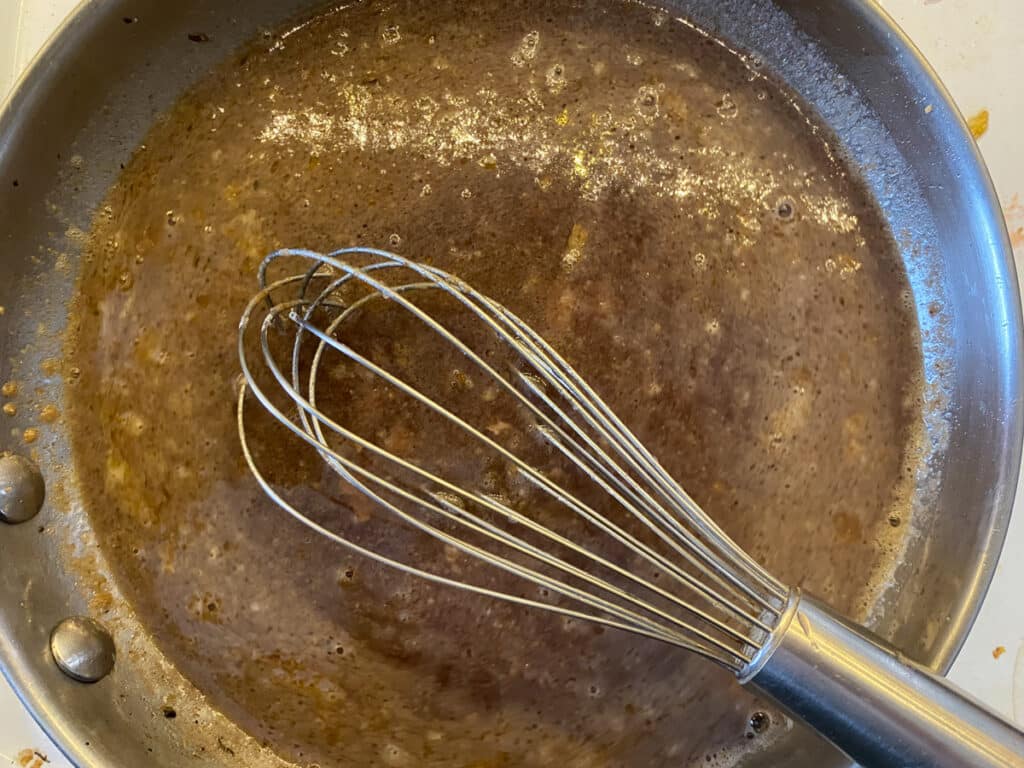 7. Finish cooking your chops.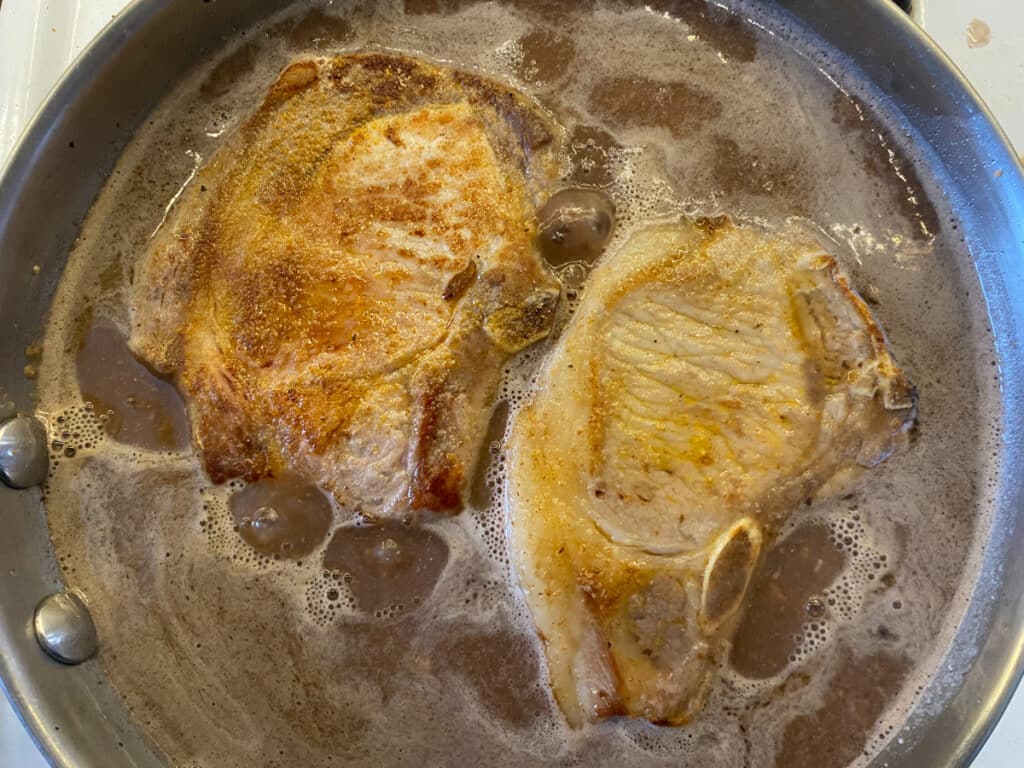 8. Add the mushrooms.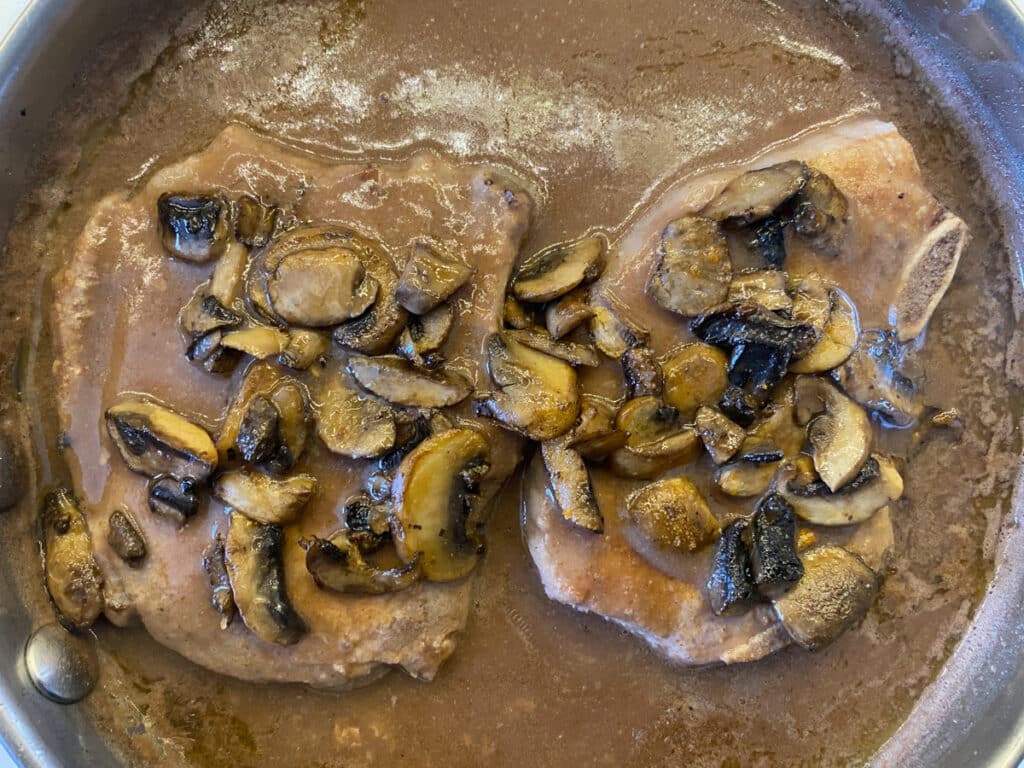 9. Enjoy!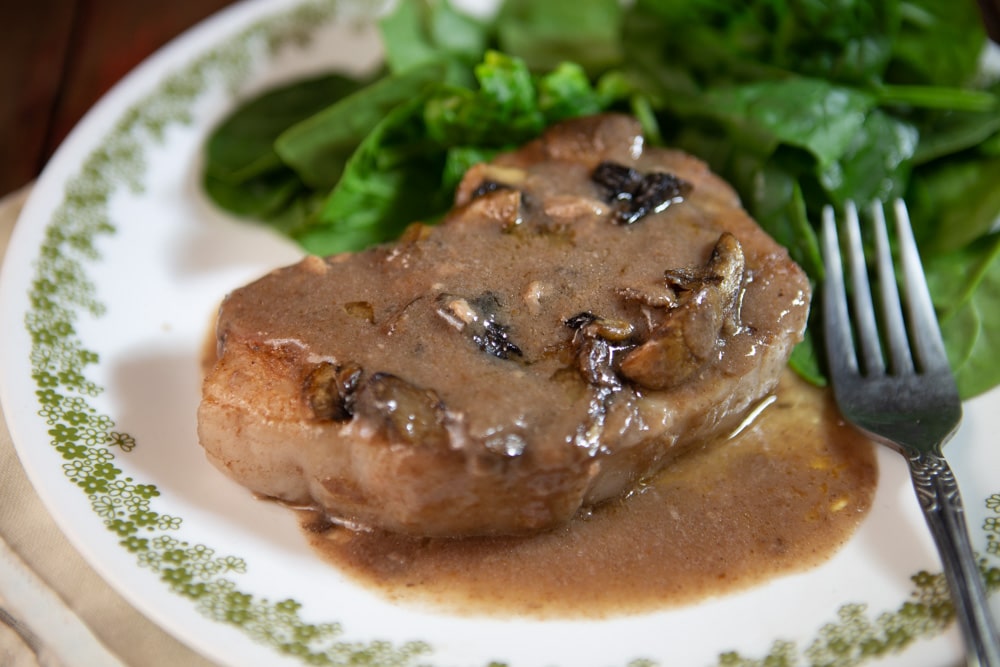 Other pork chop recipes we like:
The "Goodest" Balsamic Pork Chops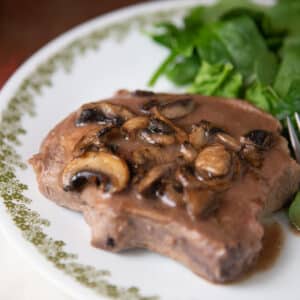 Creamy Mushroom Pork Chops (Dairy Free!)
Enjoy this stove top pork chops recipe, smothered with sautéed mushrooms, and in a creamy wine sauce that's also dairy free!
Equipment
1 Frying pan that fits 2 pork chops
Ingredients
Sautéed mushrooms
2

tbsp

lard/pork fat/shortening

You could use butter if your recipe doesn't need to be dairy free.

4

oz

mushrooms

chopped
Pork chops
2

farm fresh pork chops

bone-in or boneless

salt

to taste
Wine broth
1

cup

chicken broth

1

tsp

Worcestershire sauce

1

tsp

garlic

1/2

tsp

onion powder

1/4

tsp

thyme

1

cup

red wine

any type
For thickening the sauce
2 tbsp

flour

2 tbsp

lard/pork fat/shortening

You could use butter if your recipe doesn't need to be dairy free.
Instructions
Prepare the chops and sauce
Sprinkle both sizes of each pork chop with light amount of salt. Let rest.

In a bowl with a spout, add together the ingredients for the sauce. Mix well with a whisk and set aside.
Sauté the mushrooms and sear the chops
In a frying pan large enough for the sauce as well as the pork chops, add the chopped mushrooms and pork fat. Cook on low heat until the mushrooms are nicely brown.

Remove mushrooms from the pan and put on a plate.

Add the pork chops to the pan.

Sear the pork chops about 5 minutes per side on medium heat. You're looking to get a nice crispy brown texture on the outside.

After the pork chops have browned on both sides, set the pork chops on the plate by the mushrooms.
Create the wine sauce
While on low heat, add the lard and the flour to the pan and whisk until well mixed in a creamy paste. This is called a roux.

Add a bit of the broth to the hot lard/flour mix. Whisk until smooth. Repeat this until all the sauce is in the frying pan. It should be thickening up.

Add the chops back to the pan, cover the pan, and cook on low until the pork chops reach an internal temp of 140 degrees. Add the mushrooms to the sauce and cook covered until chops reach 145 degrees.

Serve up the chops on plates and cover with lots of mushrooms and sauce!
Notes
If you don't need the recipe to the dairy free, you can use butter in place of the lard/fat.
It's important to stir in the broth slowly to keep your sauce thickening.  If you stir it in too fast, the sauce stays more liquid, which tastes fine, it just rolls off your chop faster. 
---
Meat used in this recipe
---