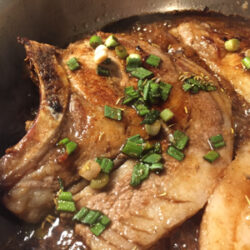 The "Goodest" Honey Balsamic Pork Chops
Ingredients
4 farm raised fresh pork chops
salt/seasoned salt
Glaze:
1/4 cup balsamic vinegar
1/4 cup honey
2-3 green onions chopped
1/2 tsp garlic
1/4 tsp rosemary
Instructions
1. Rub in a preferred amount of salt or seasoned salt on each side of each pork chop.

2. Turn on the heat under your frying pan (electric or stovetop both work fine.)

3. Pick up one of your pork chops and rub the fatty edge around in the bottom of your pan (to "oil" your pan without having to add extra oil.)

4. Add the pork chops to the greased pans and cook on each side (about 5-10 minutes, depending on heat temperature) until the internal temperature is 145 degrees.

5. While the chops are cooking, mix together the glaze.

6. When the chops are fully cooked, lower the heat and drizzle the glaze evenly across the chops.

7. Let the glaze simmer for 5-10 minutes longer.

8. Serve and enjoy!
Notes
This recipe easily be varied to go with a different number of pork chops. I made six with it, needing 3 different frying pans across the stove. I used a stainless steel electric frying pan for 3 of them and non-stick pans for the other 3. Non-stick probably worked better for cleaning as the glaze becomes pretty hard after it cools and it fell off the non-stick better. But I love my stainless steel pan, so I just soaked it in water and with a stainless steel sponge and some elbow grease, everything came clean.
Recommended cooking tools for this recipe
Sadly, it looks like my wonderful stainless steel skillet is no longer made. If I had to buy another one, I'd get this one.