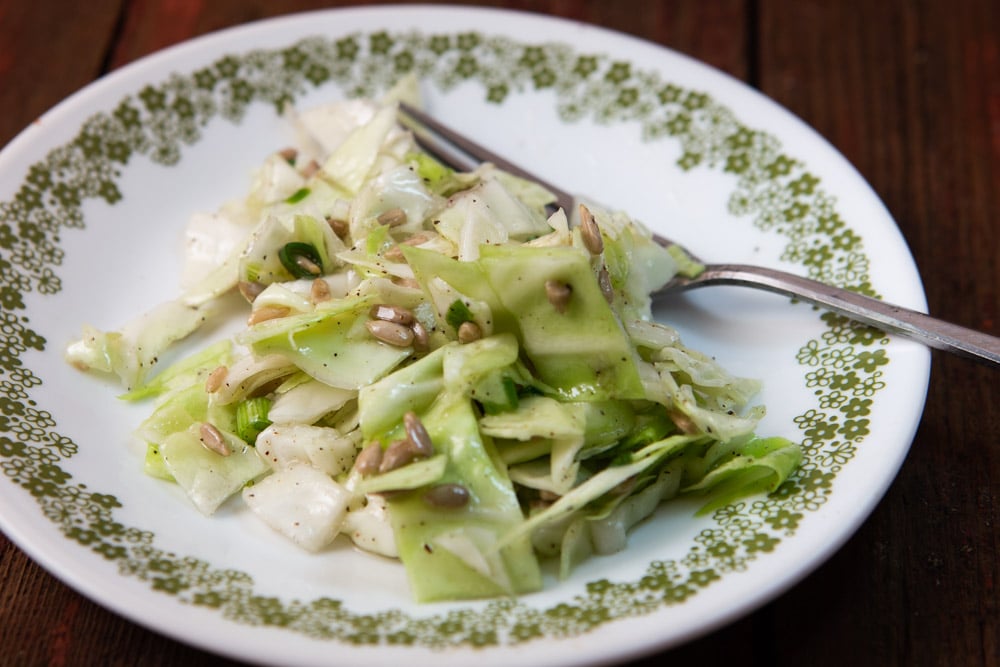 Well, it looks like summer is coming to Minnesota after all!
This past week, I decided to make the most of it by grilling for the first time this season.
So we shoveled out a winter's worth of leaves and old ash from the fire pit, restacked the cement blocks that make the edges of the firepit/grill and dropped on these delicious brats.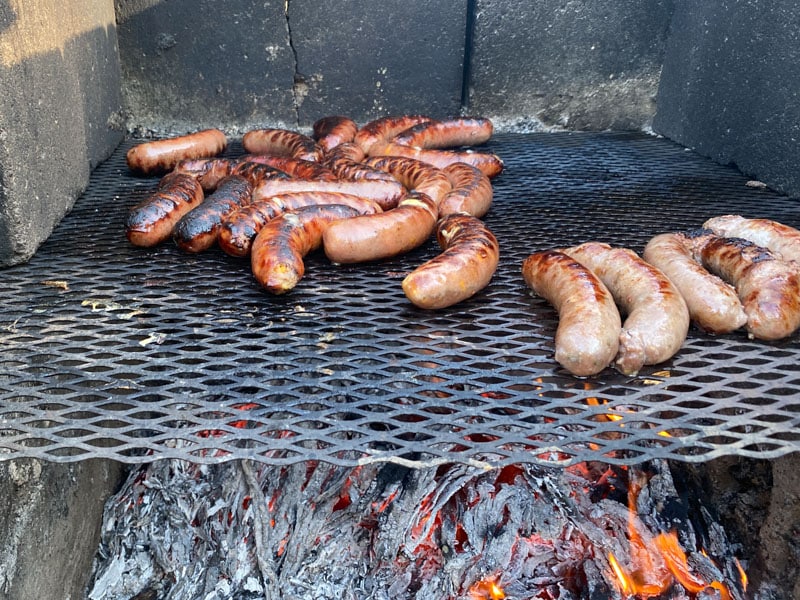 And they tasted every bit as good as they looked!!
Today, I'd also like to share a fabulous summer salad that is sure to go well with any grilled meat. Super easy to make and even the non-cabbage eaters in the family like it. 😊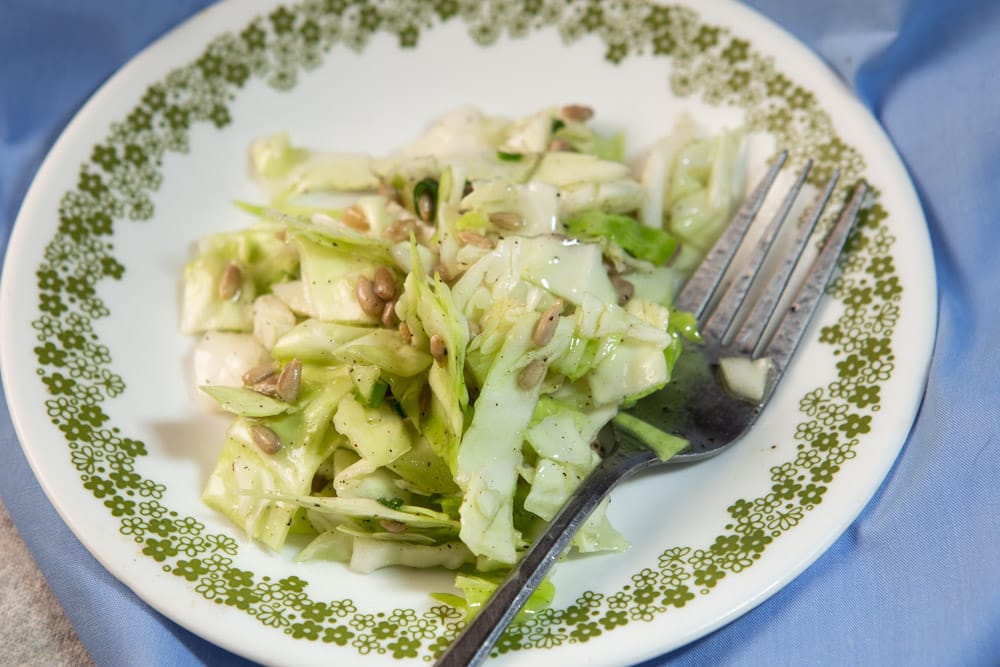 Ingredients
Shredded cabbage: You can get the already shredded stuff or if you're able to get whole fresh heads from your garden or farmer's market, even better!
Sunflower seeds: I used unsalted and unroasted, but salted and roasted is fine too.
Green onions: Adds a nice slight onion flavor to the salad.
Vinegar: I used white vinegar.
Salad oil: I used canola, I think any light oil would be fine.
Pepper, salt, granulated sugar: The perfect finish for a great salad dressing.
Farm kitchen cooking tips
This salad tastes best if you make it a couple hours before serving. But not too long….I find with fridge stay of more than a day, the cabbage gets less crunchy.
I love the freshness of this salad and the fact that it goes together really quickly for a great last minute addition to a family gathering.
I noted in the recipe to mix up the dressing and THEN add it to the salad (to help the oil connect well with the other dressing ingredients), but if you like to do fewer dishes, you can technically just add the dressing ingredients separately to the top of the cabbage, onions and sunflower seeds and mix everything together really well.
Equipment to use
I like to make this in the bowl it gets stored in. The one I use is about a 2 quart size.
Storing leftovers
This needs to be refrigerated and technically can be stored up to 4 days. However, I find the cabbage stays crisper and more delicious if the coleslaw is eaten in less than 24 hours.
What goes well with Summer Coleslaw
This recipe is perfect for any picnic featuring meat. Cool, fresh and tangy! My favorites are brats and hamburgers and pork chops are great too.
How to make this recipe
Chop the cabbage or measure out 5 cups of pre-cut cabbage.
Add onions and sunflower seeds.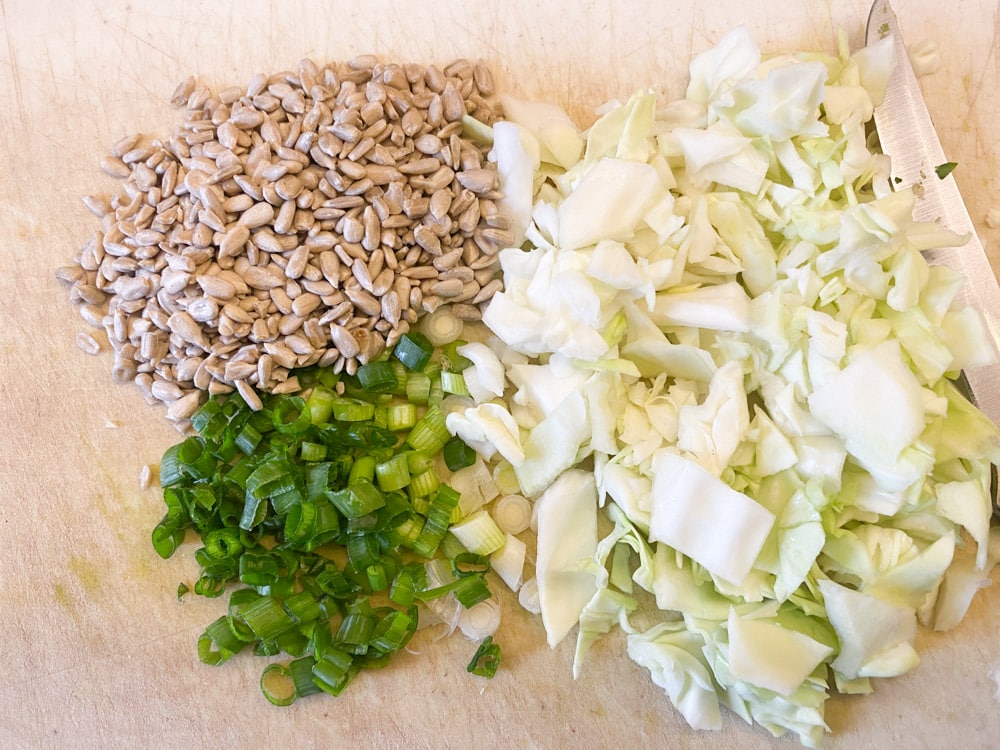 Mix together the dressing in a separate bowl and add to the coleslaw.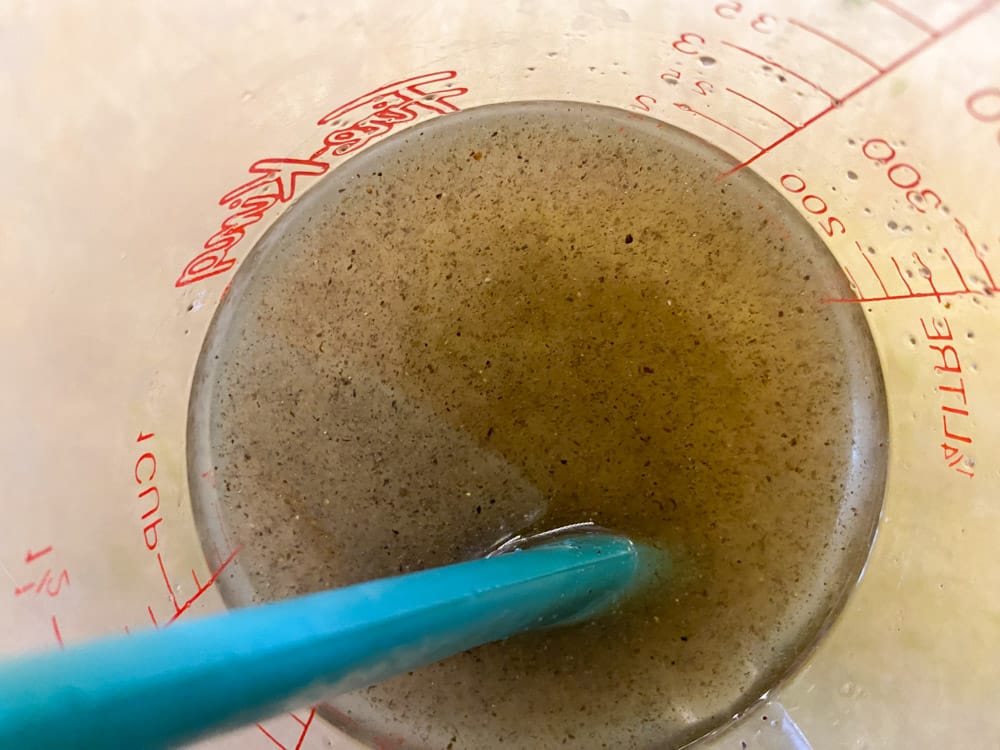 Stir well and refrigerate at least 2 hours before serving.
So there you go! A great, simple summer coleslaw to serve with your next grilling party!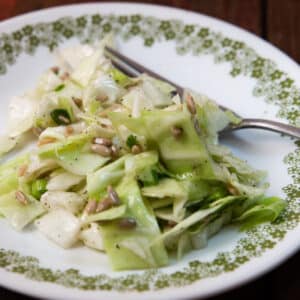 Summer Coleslaw
This summer coleslaw is the perfect side dish to your favorite grilled meat.
Ingredients
5

cups

shredded cabbage

3/4

cup

sunflower seeds

3

green onions

thinly sliced
Dressing
1/3

cup

vinegar

1/2

tsp

pepper

1/2

cup

salad oil

1

tbsp

sugar

1/2

tsp

salt
Instructions
Chop the cabbage (or you can use a bag of pre-chopped cabbage or coleslaw mix)

Add the onions and sunflower seeds.

Mix together the dressing in a separate bowl and pour over the cabbage mix.

Stir well and refrigerate at least 2 hours before serving.