This past week I was re-reading (for the umpteenth time 😁) the Laura Ingalls Wilder series.
One of my favorite series to read. She is such an awesome and vivid writer of the times her family went through as pioneers. But specifically this time around, The Long Winter hit me.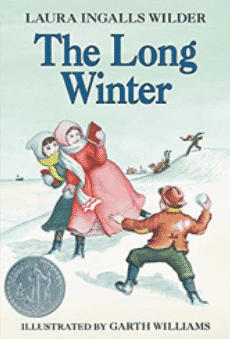 If you haven't read it, I won't ruin it, but a brief synopsis is that it tells the tale of 7 months of endless blizzards and what it was like for a family (and the town) in 1880-1881 DeSmet, South Dakota. The days/weeks/months of cold, the starvation, the darkness…I can only imagine, luckily!
However, as I sat reading this book, listening to the northwest wind whistling endlessly through the kitchen windows, and then later walking outside to the barn in the cold, gray, sunshine-less weather for the how many weeks in a row it's been, I feel like we've had a teeny tiny peak at what that must have been like, emotionally.
OK…🤣….perhaps I'm being a bit melodramatic…..because really, there is no comparing a dull, gray, late spring in Minnesota to 7 months of blizzards!
But if it ever warms up, I'm going to be as happy as Laura was when it was all over! 🥰🥰
This past week, we did have one good day, and I decided to make the most of it by grilling for the first time this season.
So we shoveled out a winter's worth of leaves and old ash, restacked the cement blocks that make the edges of the firepit/grill and dropped on those delicious brats.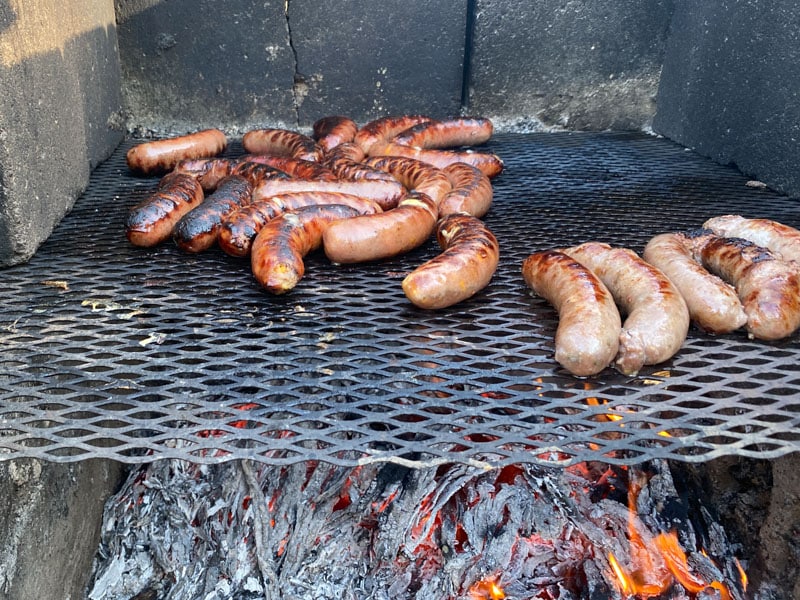 And they tasted every bit as good as they looked!!
We tried all 4 flavors of our all pork brats.
The Plain is always tasty.
The Jalapeno was loved my me and my mom. The kids…not so much… 🤣…they are pretty spicy. (Notice how they are off to one side on the picture above….certain folks appreciated not getting a spicy surprise… 😉 )
The Garlic…yum! We love garlic.
The Cheddar….gooey, drippy cheese….by far the top favorite!
If you're interested in giving these a try, or the pork chops or pork steaks, click one of those links to visit the store to purchase.
Delivery will be this week, Tuesday May 3rd, at 6pm and 6:45pm in Burnsville and Eden Prairie. More info on delivery at the food links above. Hope to see you there!
---
This week, I'd also like to share a fabulous summer salad that is sure to go well with any grilled meat. Super easy to make and even the non-cabbage eaters in the family like it. 😊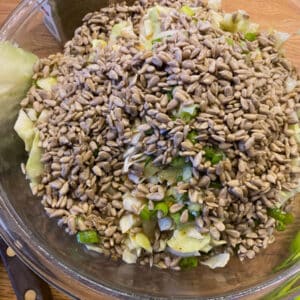 Summer Coleslaw
This summer coleslaw is the perfect side dish to your favorite grilled meat.
Ingredients
5

cups

shredded cabbage

1/2

cup

sunflower seeds

2

green onions

thinly sliced
Dressing
1/3

cup

vinegar

1/2

tsp

pepper

1/2

cup

salad oil

2

tbsp

sugar

1/2

tsp

salt
Instructions
Chop the cabbage (or you can use a bag of pre-chopped cabbage or coleslaw mix)

Add the onions and sunflower seeds.

Mix together the dressing in a separate bowl and pour over the cabbage mix.

Stir well and refrigerate at least 2 hours before serving.