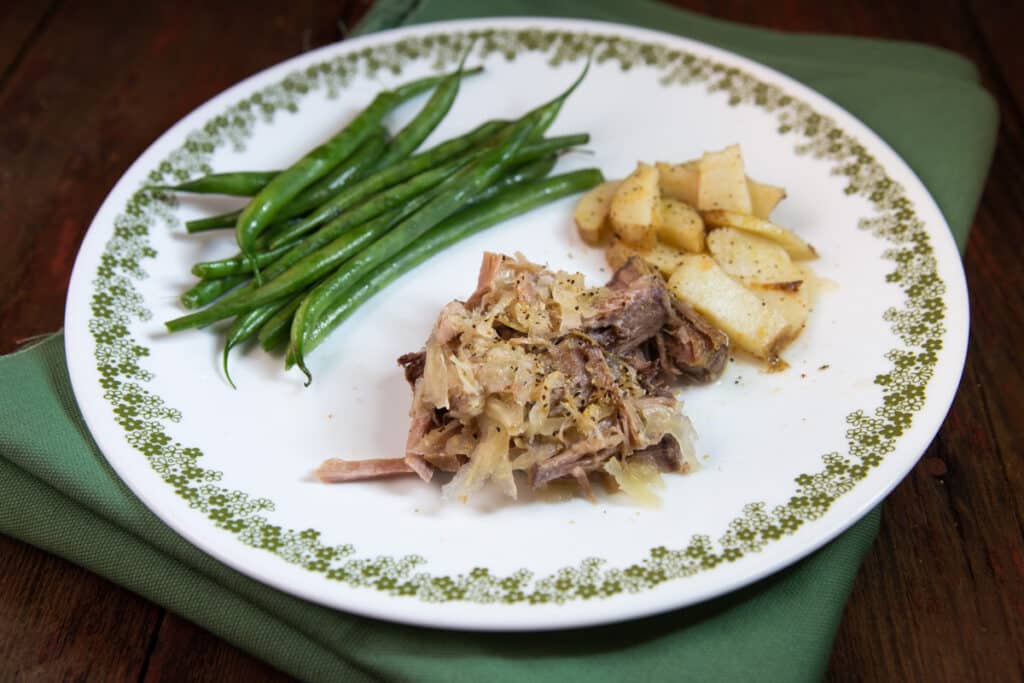 If your life is busy like ours here on the farm, a great "fix it and forget it" recipe is much appreciated.
All your have to do is pull a pork roast out of the freezer, pour on a can of sauerkraut and you have supper all ready for you at the end of the day.
Ingredients
Pork roast: I'd highly recommend farm fresh pork from your local farmer or from our farm store. The flavor will be better than anything you can find anywhere else.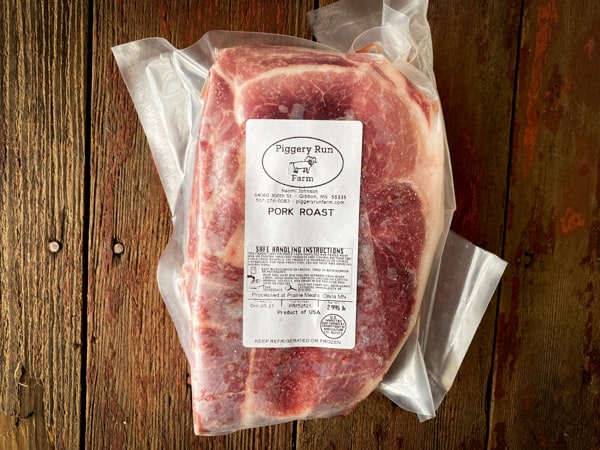 Sauerkraut: If you have homemade sauerkraut, that's by far the best, but anything canned or in a jar from the grocery store will also work well.
Substitutions
The recipe here features a pork shoulder roast. Sauerkraut goes well with any pork, so if you're adventurous, try hocks, chops or loin sometime.
Farm kitchen cooking tips
For the utmost in easy cooking, take your roast right out of the freezer and put in in the crockpot. This saves time in thawing and when you have a "oh rats, I forgot to plan supper again!" moment, it's just perfect.
To make this truly a "one pot meal", you can add raw potatoes and carrots to the crock pot about 2 hours before the end. All those yummy flavors coming together in something amazing right there!
Equipment to use
Crock pot: Any kind will work, just make sure your roast fits into it and it has a "Low" setting. I personally like this large 8qt Hamilton Beach model for our larger family.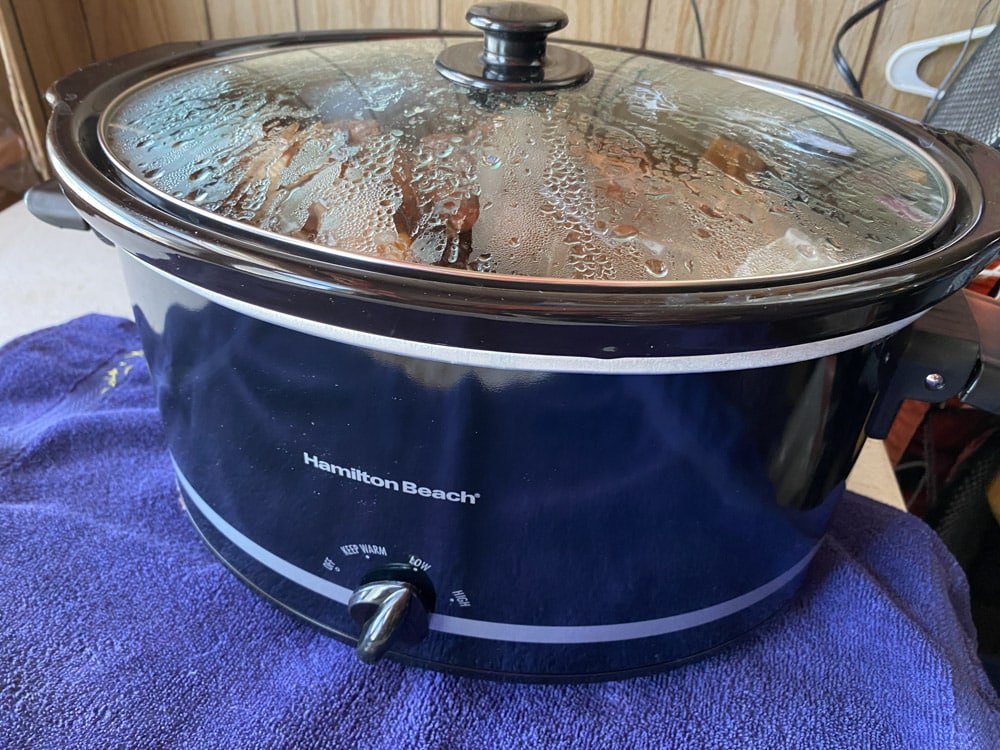 Storing leftovers
I usually put the crock part of the crock pot with any leftovers right in the fridge. Not only does it save an extra container to wash, but it's all ready to go to put right back into the crock pot base to reheat for another meal. Meat will be good for up to 1 week.
If you don't have fridge space for the crock pot, put any leftovers in a container with a nice lid to keep the sauerkraut smells out of the rest of your fridge food.
What goes well with Crock pot Pork and Sauerkraut
Any type of potatoes, such as fried, mashed or baked
Any number of vegetables, such as green beans, squash or carrots
How to make this recipe
1. Take your roast out of the packaging and put in crock pot. You can use more than one if the roasts are small, as seen in the photo below.
2. Empty sauerkraut can or jar on top of the roast.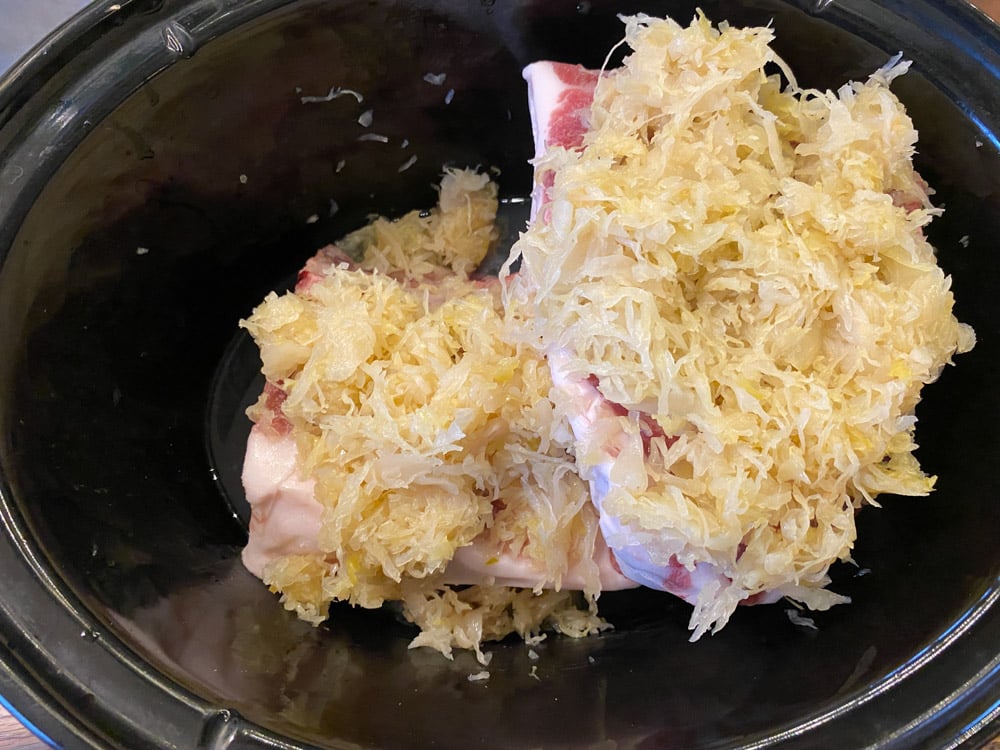 3. Add about an inch of water in the bottom of the crock pot. You can fill the sauerkraut can with water to get the last bits of sauerkraut wonderfulness out of can.
4. Put the lid on the crock pot and set to "Low" for at least 8 hours.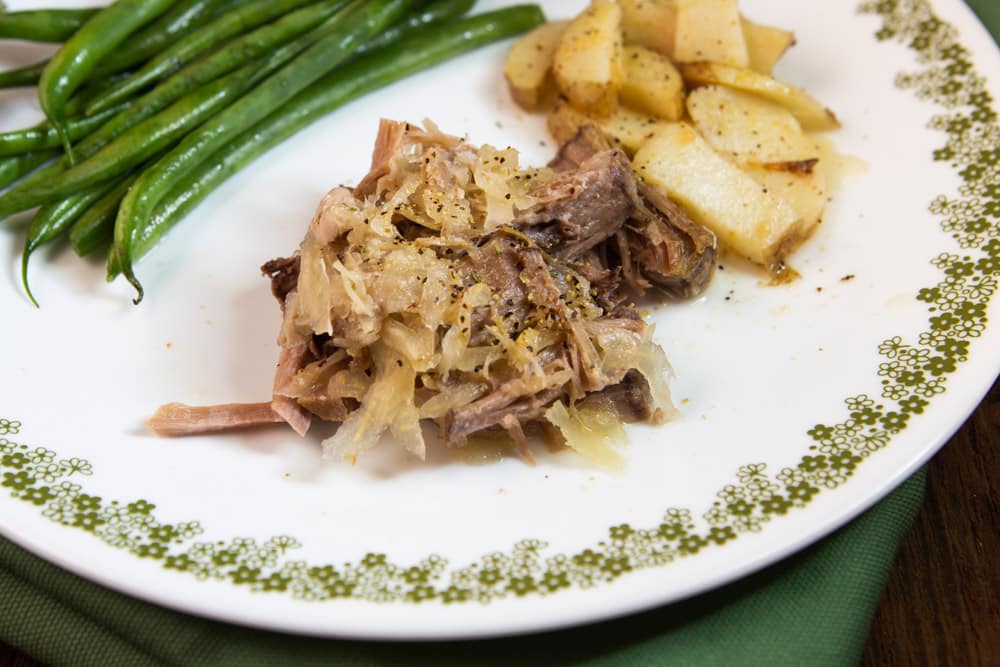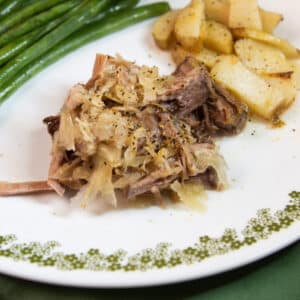 Crock Pot Pork and Sauerkraut
This crock pot pork roast, topped in tangy sauerkraut, is easy to prepare and great to come home to at the end of a busy day.
Ingredients
1

3-4lb

pork roast

1-2

15 oz cans

sauerkraut

water
Instructions
Remove pork roast from freezer packaging and put in crock pot.

Open the cans of sauerkraut and add to the top of the pork roast.

Add about 1 can's worth of water over the roast and kraut.

Turn crock pot on Low for about 8 hours.
---
Meat used in this recipe
---