Hello friend!
Everyone at our house LOVES biscuits and gravy.
But it's not the fastest meal ever to make (so it's a good thing it tastes so good! 😄)
The biscuits in particular take awhile to not only mix the dough, but then to bake them all. We have a family of 7 and usually everyone has at least 2 biscuits….you do the math…
But I found a casserole version of this recipe that I was excited to try.
All the biscuits and gravy all in one pan! I'd highly recommend this one for your family!
Ingredients
Biscuits: Either a tube of ready-to-bake refrigerated biscuits or homemade dough (recipe noted below).
Pork Sausage: Get your meat locally grown and it'll be oh-so-much-more yummy!
Flour: Plain white flour works fine, but whole wheat would also work.
Milk: If you're able to get locally produced milk, yum!
Garlic, salt and pepper: Because what recipe is complete without them?
Eggs: Of course, farm fresh is always best!
Cheese: Perfect topping for this pan.
Substitutions
Milk – I used cow's milk, although I have no personal experience with goat's milk, I would guess that would also work.
Farm kitchen cooking tips
I personally prefer to make homemade biscuit dough for this recipe. The ingredients on the side of the premade dough cylinder are a little scary.
I would recommend aging your fresh eggs by let them sit on the counter for a day or two. I find they firm up better this way.
Equipment to use
A 9×16 pan: Used to bake the hotdish.
A medium sized bowl: Works well for mixing up the eggs.
A medium sized kettle: For making the gravy.
Storing leftovers
Store in the fridge for no longer than 4 days.
How to make this recipe
First, make the biscuit dough or tear open a package of refrigerated dough. Then tear up the biscuits into small pieces and line the bottom of a the biscuits go in the pan.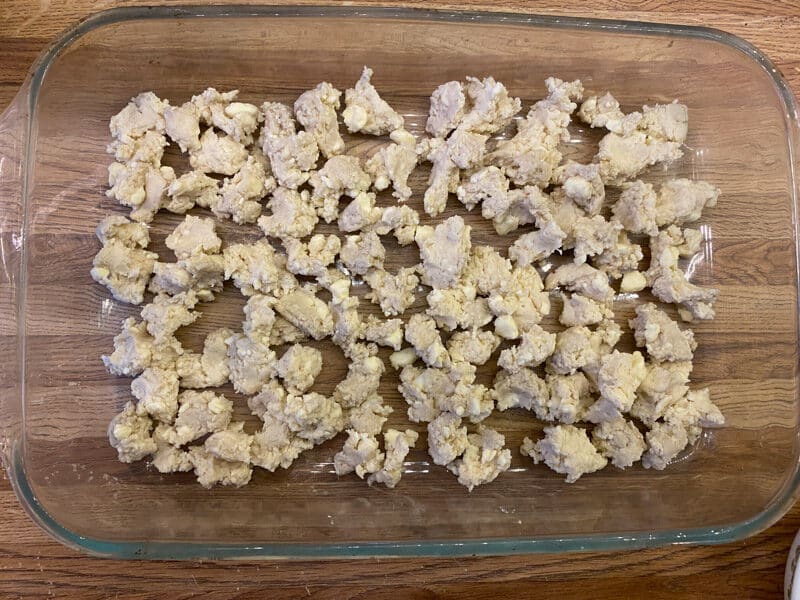 Brown the pork sausage and add it to the top of the dough.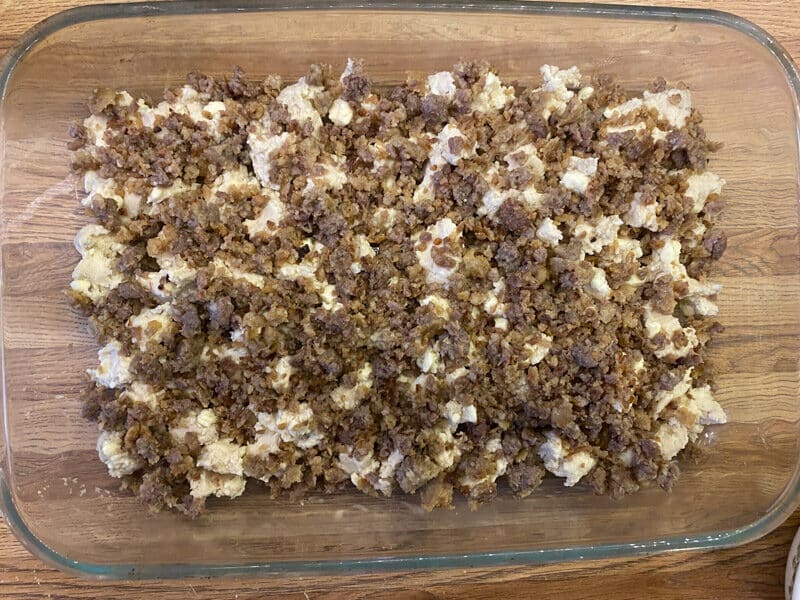 Then add the scrambled eggs, thickened gravy and cheese.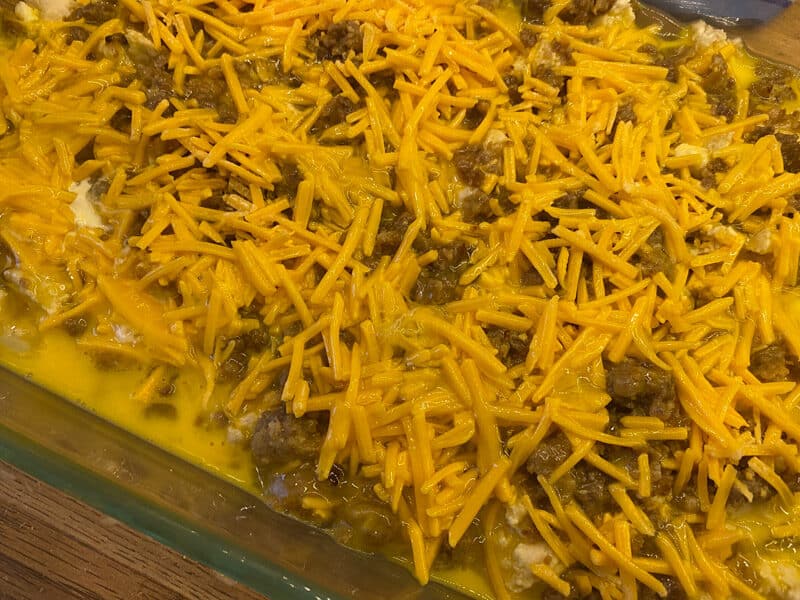 And before you know it, it's time to eat!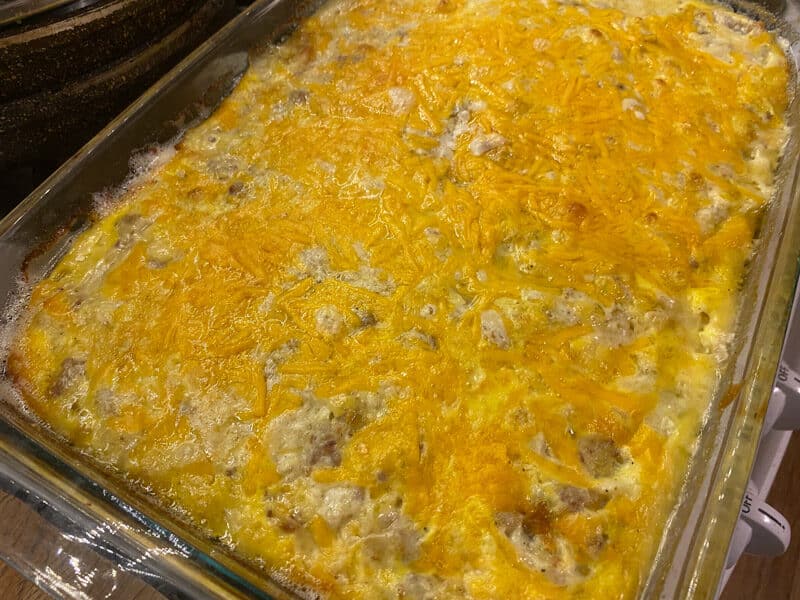 Yum! Look at those layers of cheesy, pork and gravy filled goodness!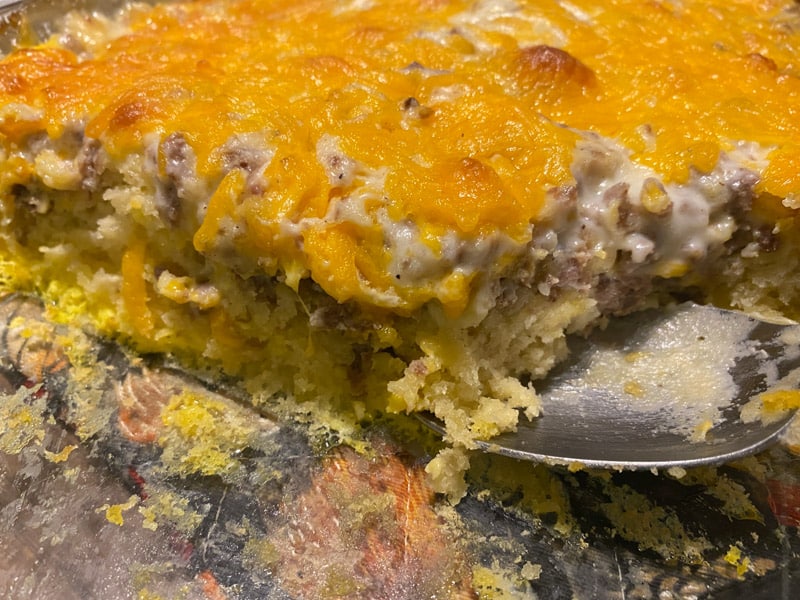 Try it for your family! 😋😋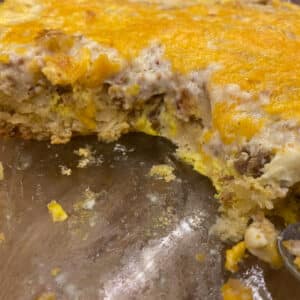 Biscuits and Gravy Casserole
An easy way to make biscuits and gravy for the whole family.
Ingredients
1

lb

tube of refrigerated biscuits or homemade (recipe below)

1

lb

pork breakfast sausage

1/4

cup

flour

2.5

cups

milk

divided

1/4

tsp

garlic powder

1/2

tsp

salt

1/2

tsp

pepper

7

farm fresh eggs

4

oz

shredded cheese
Homemade Biscuits
2

cups

flour

1

tbsp

baking powder

1

tbsp

sugar

1

tsp

salt

6

tbsp

salted butter

cold

3/4

cup

milk
Instructions
Start the pork sausage to brown in a small kettle.

Cut up pieces of the tubed biscuits or homemade biscuits and cover the bottom of the 9×13 pan.

After the sausage is cooked, remove about 3/4 of it, leaving a little to make the gravy. Turn off the heat to the pan.

Add the flour to the remaining sausage and grease. Whisk until the sausage is fully covered in flour.

Turn the stove heat back on a low heat and add the 2 cups of milk, garlic, salt and pepper. Whisk until thick.

While the gravy is thickening, scramble the eggs and 1/2 cup of milk.

Add the plain sausage to the biscuits in the pan.

Pour eggs over the sausage and biscuits.

Pour gravy on top of eggs and sausage and biscuits. Sprinkle cheese on top.

Bake for about 45 minutes uncovered.
---
Our farm products mentioned on this page