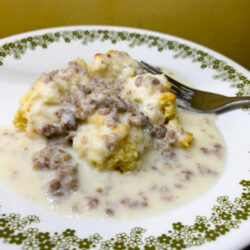 Breakfast Biscuits and Pork Sausage Gravy
A fabulous start to your day with this pork sausage and gravy recipe
Ingredients
Pork Sausage Gravy
1

lb

breakfast seasoned pork sausage

1/4

cup

flour

2.5

cups

milk

1/2

tsp

salt

to taste
Homemade Drop Biscuits
2

cups

flour

1

tbsp

baking powder

1

tbsp

granulated sugar

1

tsp

salt

6

tbsp

salted butter

very cold

3/4

cup

milk
Instructions
Pork Sausage Gravy
Cook seasoned pork sausage in a medium saucepan. Don't drain any grease.

Add flour and salt and stir until flour has coated the cooked sausage.

Add the milk and cook on medium or low until thickened.

Serve over warm biscuits! Store-bought will work, but if you have time, try the homemade ones….so delicious and the ingredients are much better for you.
Homemade Drop Biscuits
Turn your oven on to 425.

Combine the dry ingredients in a bowl.

Add the butter to the flour mixture. You can do this by cutting in the butter with a pastry cutter, or use a cheese shredder to flake the butter into the flour mixture, or cut the butter into tablespoon size pieces and, with the flour mixture in a food processor, slowly add the butter pieces.

When the butter is added, the flour mixture will look chunky. This is perfect.

Add milk and stir well, or continue mixing in the food processor.

When everything is mixed, take spoonfuls of the very sticky dough and space them evenly on a cookie sheet that has sides. (Sometimes the butter runs…and you don't want it running off the edge of a flat cookie sheet and burning in the bottom of the oven…don't ask me how I know…)

Bake your biscuits for 12 minutes at 425.

When they are finished, place a nice warm one on a plate and cover in gravy. The flakey, buttery biscuit under a sea of meaty, creamy goodness will warm you to your toes, I guarantee it.