Hello friend!
I don't know about you, but it feels pretty much like this here the last few days: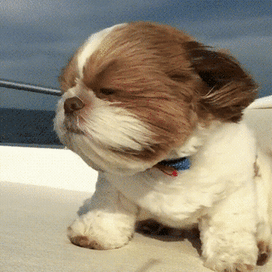 Hopefully this doesn't mean there's an impending blizzard. 🥶
We have a window on the west side of our kitchen that, when the wind is blustery, it whistles. Like…for hours on end. 😵
It makes a person cold just hearing it, even if it happens in the middle of the summer (which actually may have some benefits 🤣).
So when that window whistles, I start to get in the mood for soup. Nothing warms a person up like good soup!
I think soups are my favorite food, so I thought today I'd share one of my favorites – Split Pea Soup.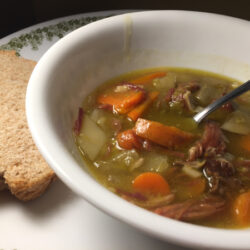 Split Pea Soup
This will warm you straight to the toes on a cold winter day!
Ingredients
2

cups

split peas

2

cups

ham

cooked and chopped

8

cups

water

can include any ham broth

1

tsp

celery seed

or 1/2 cup chopped celery

1

tsp

rosemary

1

tsp

garlic

2

cups

diced raw carrots

2

cups

diced raw potatoes

3/4

cup

chopped onion

salt and pepper

to taste
Instructions
Add water, any broth, ham, celery seed, onions, peas, and seasonings to large kettle.

Bring the mixture to a boil and then lower heat to a simmer.

Cover and let cook for at least a 1/2 hour, stirring occasionally.

After peas are cooked and/or mushy, add all the raw veggies.

Continue to simmer until carrots and potatoes are soft.

Serve with fresh bread and crackers. 🙂
This recipe features Minnesota born, raised and processed….
With the holidays coming up, ham is a favorite meat to serve.
And this recipe is GREAT for using up the leftovers.
You can take just a couple cups of leftover ham and make another whole meal.
At our house, any meal I can take a little and make a lot is a great thing!
Farm News November 21, 2021
The past couple weeks have been crazy busy, mostly getting the yards and barns ready for winter.
Draining above ground waterlines, planning where fences will go before they are frozen into the ground wherever they are, covering any barn doors and windows to keep the warm in, etc. Freezing weather is a lot of work… 😅
I also purchased some used gates from a farm who used to have pigs. This doesn't sound like much…but I'm in love. What I did have for fences were the solid wood walls for farrowing pens…I couldn't see any of the pigs. 😥 Now they are in this much sturdier set-up and I was able to put two straw bales in for them to play in and make a warm place to sleep! 😴
The cats and chickens live in one end of this barn, keeping warm by the pigs. 🥰Here's one of our whiskered chickens. 😉
(That particular kitten and his sister have come to live in the house part of the time….fall outside kittens have a hard surviving, even with warm pigs… 😥)
Look at that cute face! If you are looking for a pair of cozy winter fluffballs, we would give them up…my husband thinks 5 cats in the house is too many…I love cats, but I think I'd have to agree with him…. 😫

With the warm fall we had, the chickens thought it was spring. At least 4 chickens hid away a nest of eggs and hatched a few of them. At this time of the year, they rarely make it, but this mother has been persistent…Here she is within a couple days of hatching, October 21st:
And then the other night, I was out feeding the pigs in the barn and heard cheeping…..but didn't see them right away….
That roost is at least 5 ft off the ground….I have no idea how she got them up there….but she's keeping them warm! 🥰
If you remember Tulip from previous emails…here she is with some of her gang. She fed them well and they are off to their new homes next week!
Lavender and Poppy, my newest sows who came bred back in September, had their piglets recently too, although there was an issue with breeding so one only had 2 and one had 4. 😫 (Typically they should have each had at least 10.)Not what I was hoping for, but that's life. 🤷‍♀️ Here are two of them….it's always amazing to me how utterly tiny they are compared to their enormous mothers!
Well, that about raps it up for this week! Stay warm!
From all of us here at Piggery Run Farm,
with 2 feet or 4 feet,
we wish you a warm Thanksgiving week ahead! 🍂🌞
Naomi and the gang