How does pizza rank on the "most delicious food ever" scale for you?
In our house, it's fairly close to the top.
However, making a pizza from scratch, with making the dough, rolling it out, adding toppings and then getting it onto a pan, is something that has fallen by the wayside of necessary time commitments since kids were born.
Making 1 pizza takes long enough, but 3-4 for a family?
Yeah, not so much.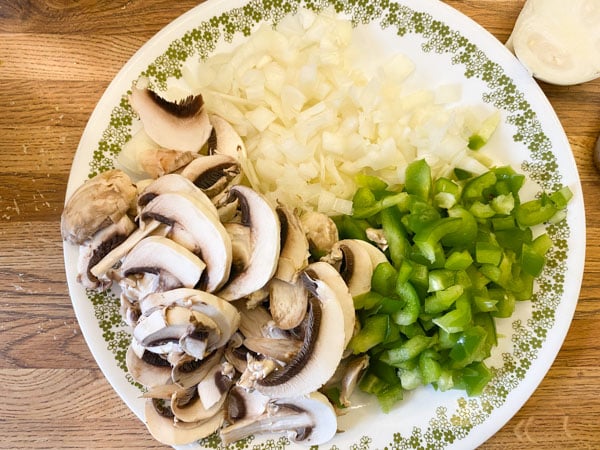 So I'm always on the lookout for pizza-like recipes that shorten the process
Since pizza is a favorite American pastime, you might feel the same way.
So the next time you're looking for an alternative to frozen or take-out pizzas full of ingredients you can't pronounce, give this pizza casserole a try.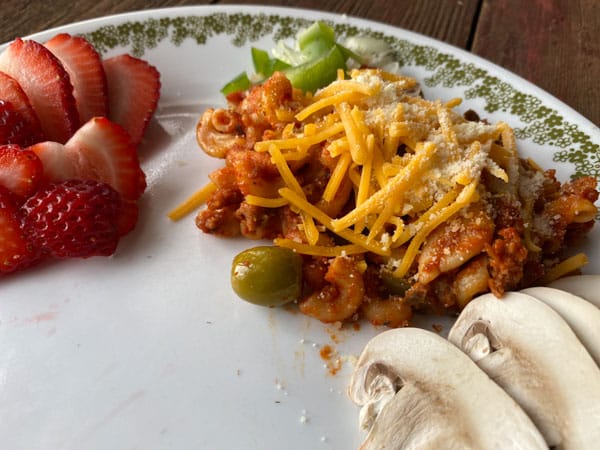 So easy to put together and you can easily double or triple it for leftovers.
(And BONUS….the leftovers taste even better than the first time around since the flavors have all melded together in a delicious pizza amazingness!)
And did I mention it features our farm produced breakfast seasoned pork sausage? Find it in our store.
So here you go….2+ meals, all in one recipe….the fabulous….pizza casserole.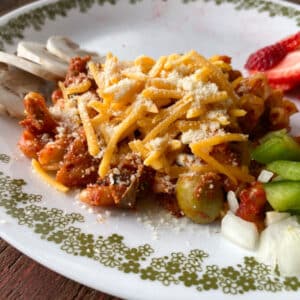 Pizza Casserole
This pizza casserole is an easy way to make pizza for a group, with leftovers ready for another meal.
Equipment
7 qt casserole pan with a lid
Ingredients
1

lb

raw elbow macaroni

1

lb

bulk pork sausage, breakfast seasoned

12

oz

tomato paste

mixed with 24 oz of water

1 1/2

tbsp

Italian seasonings

or 1 tsp garlic powder, 1 tsp onion powder, 1 1/2 tsp basil and 1 1/2 tsp oregano

1

tsp

salt

20

pieces of pepperoni

1/2

an onion

chopped

1/2

a green pepper

chopped

4

oz

mushrooms

chopped

8

oz

olives

chopped or whole

shredded cheddar or parmesan cheese

to taste
Instructions
Thaw and brown pork sausage.

Add cooked pork sausage to the casserole dish.

Add raw noodles to the casserole dish.

In the bowl that has the tomato paste and water, add the Italian spices. Mix well. It should be fairly watery. Add this mix to the casserole dish.

Add the chopped veggies to the casserole dish.

Stir all ingredients well.

The mixed ingredients should be very watery. Since the noodles are raw, they will absorb the moisture. If it doesn't look watery, add a little more to make sure it doesn't burn.

Cover casserole dish and bake for about 1 hour.
Notes
Pizza can have a huge variety of toppings…feel free to take out or add or adjust quantities to whatever you'd like to make it a favorite for your family.
This is very easily doubled or tripled or more. Reheats well and even tastes better the second go around since the flavors have mixed. Yum!
Cheese can be added for the last 10 minutes of baking if you like it gooey and melty. Or you can simply have it in a bowl on the table to be added to taste to each plate.
---
A peak in our week, first week of May 2022
This week the first lambs were born! 🥰
Here they are as we found them early in the morning: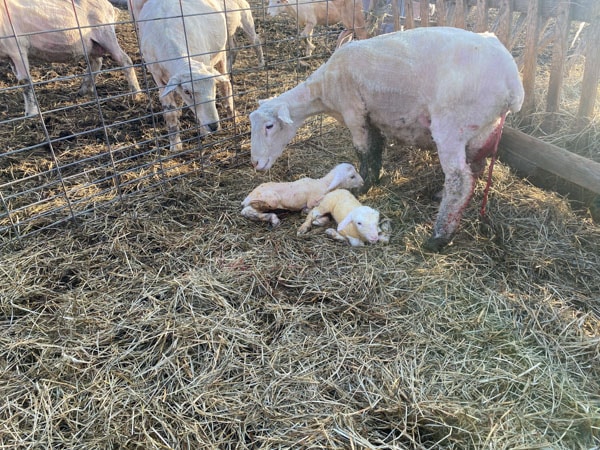 While it wasn't terribly cold, luckily, they were still steaming with just being born. And soon they were standing and looking for something to eat from mom.
It was a beautiful day…by afternoon, they were settling in nicely to their new world.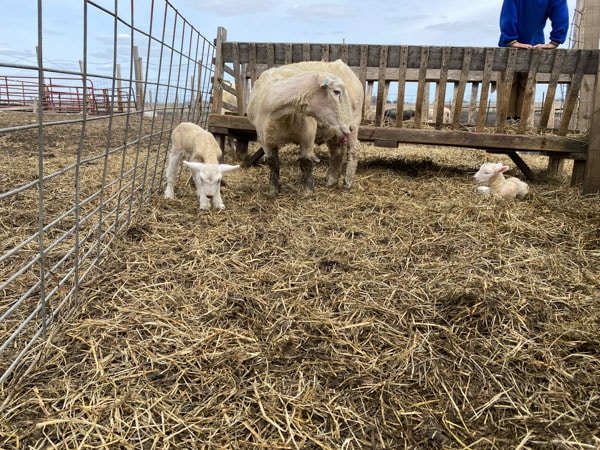 It is always amazing to me how a lamb can go from born, to standing, to eating, to jumping in less than 12 hours. It takes 1-2 years for human children to get that far!
Although, I don't know about you, but I don't know if I could handle a human baby moving like a toddler at less than 12 hours old. I'm pretty sure I don't have the energy for that. 🥴
---
In piglet world, the last 4 spring piglets will be weaned this weekend. Two will be going to someone else's farm where they will be come mothers themselves in about a year. The other two will be staying here with us for the summer.
This means that they will be separated from mama pig. They will live on their own and she will move back in with the rest of the sows.
Unlike a beloved human child leaving home for college, pigs generally don't have the same attachment to their offspring.
The piglets are in a pen with others and they play and tussle and eat their grains and stay busy.
And, frankly, Mama is always thrilled to have her responsibilities lifted.
I'm sure some of us can understand. 😉