How does pizza rank on the "most delicious food ever" scale for you?
In our house, it's fairly close to the top.
However, making a pizza from scratch, with making the dough, rolling it out, adding toppings and then getting it onto a pan, is something that has fallen by the wayside of necessary time commitments since kids were born.
Making one pizza takes long enough, but 3-4 pizzas to feed a family?
Yeah, I just run out of time.
So I'm always on the lookout for pizza-like recipes that shorten the process
Check out this pizza hotdish…all the same ingredients…put together in a fraction of the amount of time to prepare.
So the next time you're looking for an alternative to frozen or take-out pizzas full of ingredients you can't pronounce, give this pizza casserole a try.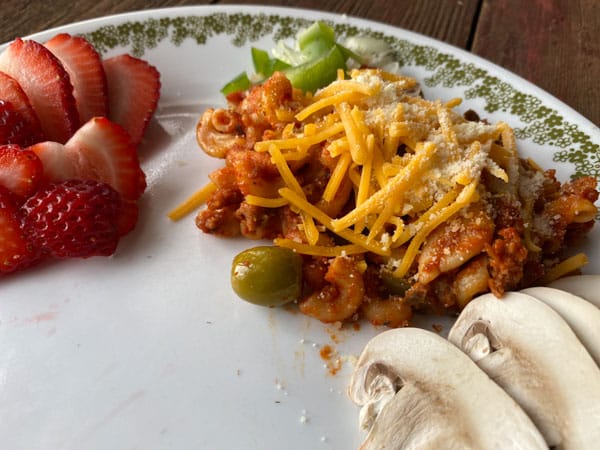 Ingredients
Macaroni: I used elbow macaroni. You could use other shapes if that's you have on hand.
Breakfast sausage seasoned pork: This is available from most any local hog farmer. You can also find it in most grocery stores.
Tomato Paste: Have to have tomato sauce on your pizza and this recipe features my homemade sauce.
Italian seasonings: I always use dried seasonings because it's the easiest to come by. If you happen to have fresh, you might need a little less, but add to your own taste preferences!
Salt: Iodized sea salt gives us the necessary iodine in our lives, plus the sea salt helps to cleanse the body of various impurities.
Pepperoni: For a pepperoni pizza taste.
Onions/green peppers/mushrooms: I use fresh, but if you have frozen it would also work because they get cooked anyway.
Olives: Black or green…it makes no difference. Choose to your taste!
Cheese: The best part! Any kind works, I like mozzarella for this one. A little parmesan is also awesome.
Substitutions
There could be a number of substitutions for this hot dish. The recipe toppings as you see here are only one of probably many variations. Add/subtract what your family likes best.
Farm kitchen cooking tips
This recipe easily doubles/triples/quadruples. I have noticed, however, that the larger the hotdish, the harder it is to cook the very center. To solve this problem, you could take it out halfway through baking and stir everything.
This recipe calls for raw noodles with the toppings and sauce. If you run low on time, you can cook the noodles first and then add everything together. Make sure to add a lot less water. If you do this method, you only have to bake the casserole for about 30 minutes.
Equipment to use
I recommend a 7qt baking dish for the recipe as shown below, but if you make more, you'll definitely need a larger roasting pan.
You'll also need a frying pan to cook the ground pork.
Storing leftovers
Leftovers are the beauty of this casserole. It's so easy to make a larger amount of it and it works super well to refrigerate and heat for another meal. I will put the entirely hotdish in the fridge, or you can fill small reusable containers to have ready-made lunches for the next week. You can store this casserole for a week in the fridge. I wouldn't recommend freezing…the noodles turn a little gooey.
What goes well with Pizza Casserole
Add a salad or fruit and you have your meal all ready to go.
How to make this recipe
Start browning the pork sausage.
While that going on, cut up all your veggies.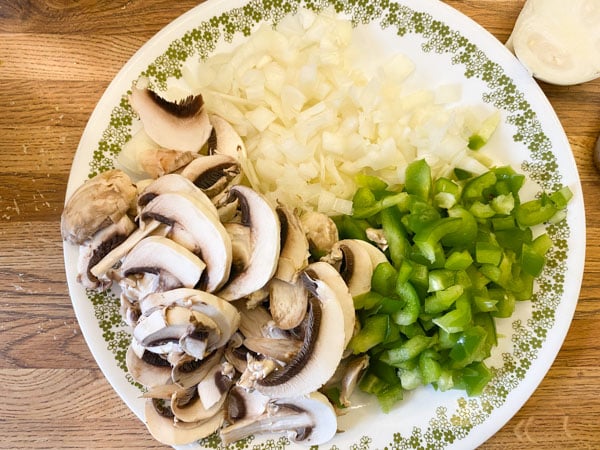 3. Add all the rest of the ingredients and seasonings and bake at 375 for 1 hour.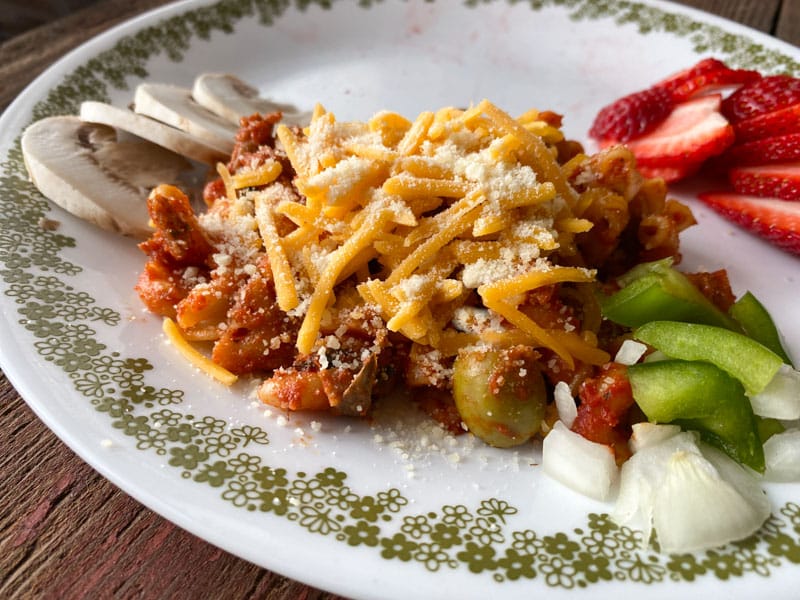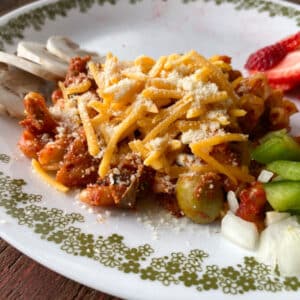 Pizza Casserole
This pizza casserole is an easy way to make pizza for a group, with leftovers ready for another meal.
Equipment
7 qt casserole pan with a lid
Ingredients
1

lb

raw elbow macaroni

1

lb

bulk pork sausage, breakfast seasoned

12

oz

tomato paste

mixed with 24 oz of water

1 1/2

tbsp

Italian seasonings

or 1 tsp garlic powder, 1 tsp onion powder, 1 1/2 tsp basil and 1 1/2 tsp oregano

1

tsp

salt

20

pieces of pepperoni

1/2

an onion

chopped

1/2

a green pepper

chopped

4

oz

mushrooms

chopped

8

oz

olives

chopped or whole

shredded cheddar or parmesan cheese

to taste
Instructions
Thaw and brown pork sausage.

Add cooked pork sausage to the casserole dish.

Add raw noodles to the casserole dish.

In the bowl that has the tomato paste and water, add the Italian spices. Mix well. It should be fairly watery. Add this mix to the casserole dish.

Add the chopped veggies to the casserole dish.

Stir all ingredients well.

The mixed ingredients should be very watery. Since the noodles are raw, they will absorb the moisture. If it doesn't look watery, add a little more to make sure it doesn't burn.

Cover casserole dish and bake for about 1 hour.
Notes
Pizza can have a huge variety of toppings…feel free to take out or add or adjust quantities to whatever you'd like to make it a favorite for your family.
This is very easily doubled or tripled or more. Reheats well and even tastes better the second go around since the flavors have mixed. Yum!
Cheese can be added for the last 10 minutes of baking if you like it gooey and melty. Or you can simply have it in a bowl on the table to be added to taste to each plate.
---
Meat used in this recipe
---