I learned recently that pork steaks are more common in some parts of the country than others.
Have you had a pork steak recently?
Do you know anything about it?
Pork steaks come from the shoulder of the hog. They are basically a pork roast cut into 1 inch slices of deliciousness.
The shoulder is a little more fatty than, say, a loin where pork chops come from, so that makes the meat little more flavorful as well.
How do you prepare and cook a pork steak?
They work very well for a smoker since "low and slow" is the name of the game when it comes to pork shoulders.
I've also put them on the grill sometimes too. Not as tender, but still tasty.
---
For this recipe, I'm going to share how I smoked pork steaks.
---
First, I started with a great apple based brine for my steaks. Pork and apple flavors go REALLY well together.
I boiled this brine on the stove for a few minutes to soften the apples and dissolve the sugar and salt.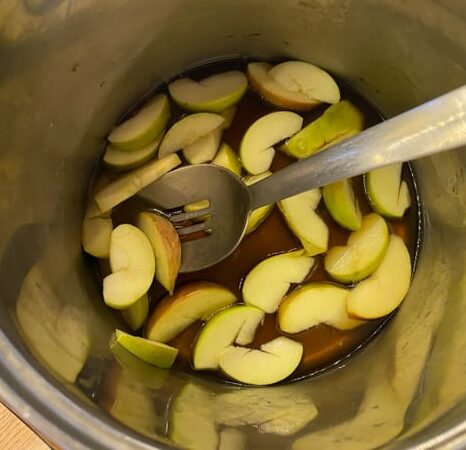 I then cooled it by adding cold water, then added the brine and steaks to a large bowl to "soak". The meat sat in the goodness overnight.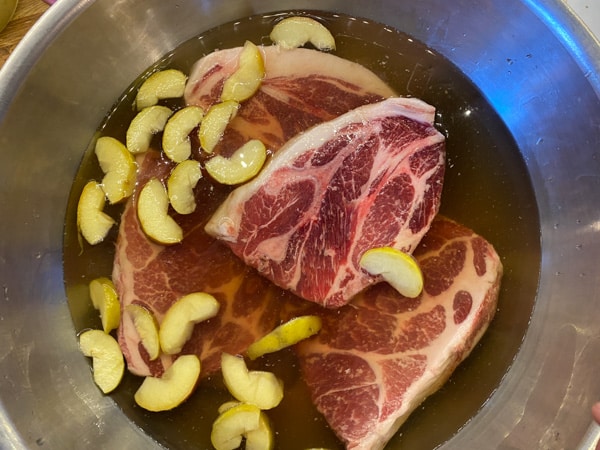 I picked a seasoning and sprinkled liberal amounts of it on the steaks.
After the smoker was nice and hot, I added the steaks to it.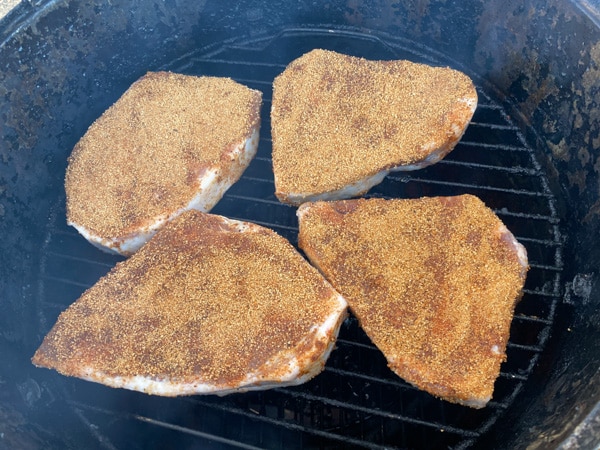 After several hours, the steaks were tender and smoky!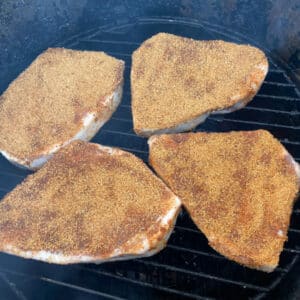 How to smoke pork steaks
Delicious, smoky and meaty pork steaks, perfect for any dinner.
Ingredients
4

pork steaks

3

tbsp

seasoning of choice
Brine
1/4

cup

salt

1/2

cup

sugar

2

cups

water

2

cups

ice or very cold water

1

cup

apple cider vinegar

4

apples, cut into slices
Instructions
Start with the brine
Combine salt, sugar, 2 cups of water, 1 cup of apple cider vinegar and apple slices to kettle on stove.

Bring to a boil until salt and sugar are dissolved. Apples should be a little soft.

Add 2 additional cups of ice or cold water to the mix. Test the water temperature…if it's still pretty warm, add a more cold water or ice until it's not warm anymore…you don't want to cook your steaks before they even get into the smoker.

Add the steaks and the apple/water mix to a large bowl. Make sure the steaks are covered with liquid. If they aren't under the water, add a little more cold water until they are.

Cover bowl and refrigerate overnight.
Prepare for smoking
Start up your smoker and get the inside temperature up to about 250°.

Remove steaks from brine and cover in a seasoning of your choice.

Add your steaks to the smoker. Maintain the smoker at 225-250°.

Use a thermometer to watch the temperature of the steaks. After a few hours, they should be about 180°.

Remove from the smoker and wrap in tin foil or a pan with a lid. This will keep the steak moist.

Return steaks to the smoker and bring the internal temp of the steaks up to about 200° for the best tenderness.

Remove from smoker and enjoy!