'Tis the season for pork chops!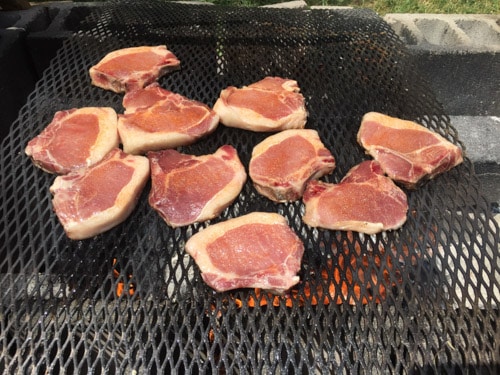 Of all the cuts of pork, I think chops might be my most favorite.
You can grill them…put them in the crock pot….smoke them….bake them…..broil them….and probably several other fabulous things I haven't discovered yet.
In the summer, grilling them is how I like to prepare them best.
And I'd like to share the simple way I make mine.
Our grill was actually built by my brother a few years ago.  It's a simple design of cement blocks with a stainless steel grate that can be arranged a couple different ways. It works well with the wood we available from the grove of trees on the north and west parts of our property.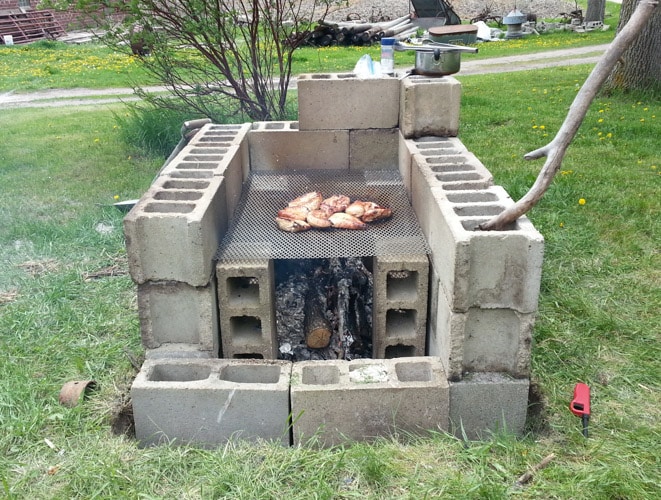 But you don't need anything fancy. A charcoal or propane grill will work fine.
However, there is one thing that's MOST important for pork chops…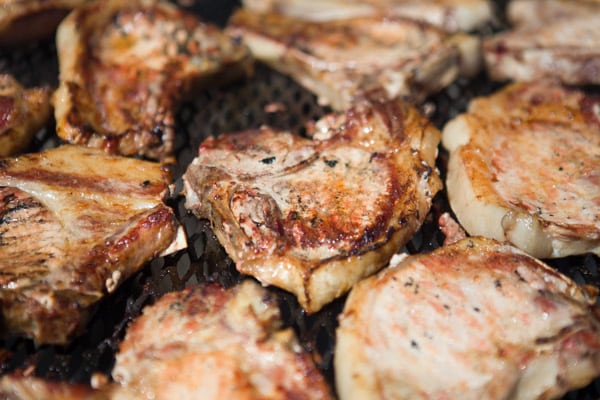 Temperature
These chops come with fabulous flavor and tenderness already, but it's a MUST that they are cooked not much higher than 145 degrees.
If they are over-done, they get tough and chewy and the flavor isn't as good.
But 145 is yum yum good! 😄
Here's my simple recipe anyone can follow to make delicious summer pork chops!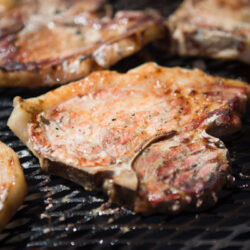 Grilled Pork Chops
How make the perfect pork chops on your grill.
Ingredients
4

farm fresh pork chops

A seasoning of your choice

Lawry's is great!
Instructions
Sprinkle a seasoning of choice on both sides of your chops.

If you have time, let them sit for 30 minutes before grilling.

Prepare your grill and add your chops to the grill when it's hot.

The length of cook time could vary depending on your grill, but generally it's about 20-30 minutes.

Flip your chops 2-3 times during cooking to make sure they are evenly heated.

Watch your meat temperature closely. You don't want them to get very far above 145 degrees. If necessary, adjust each chop's position on the grill to allow the done chops to remain warm but not raise the meat temperatures much higher.

Remove from grill when cooked and enjoy!
Notes
We raise meat that is very tender and flavorful. You can experience this best by not letting your chop's cook temperature to be much above 145.  We highly recommend a meat thermometer (especially one with a long probe that you can leave in while cooking.)