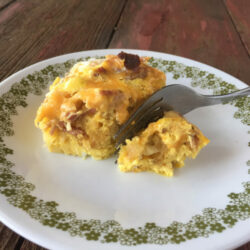 Good Morning Eggbake
Farm fresh eggs and sausage and fresh veggies, covered in gooey cheese…drooling yet?
Ingredients
10 eggs
1/2 cup of milk
1/2 tsp salt
1/4 tsp pepper
1 cup of ham pork sausage or bacon
1 cup of peppers onions, mushrooms or any other veggies you prefer
2-3 cups of shredded cheese
Enough tator tots to layer the bottom of a 9x13 pan
Instructions
Preheat oven to 375.

Layer the tator tots on the bottom of the 9x13 pan. You can create this frozen, or put them in the pan and set aside for a couple hours to warm up before adding the rest of the ingredients.

Sprinkle the meat, veggies and cheese over the tator tots.

Mix together the milk, eggs, salt and pepper in a separate bowl.

Pour the egg mix over everything.

Cover the pan and bake in oven for 1 hour.
Notes
Doubling this is easy, although I would advise making a second 9x13 pan vs getting a taller pan and making the egg bake thicker. The eggs cook more evenly in an oven on a thinner layer. You can make this in a crock pot as well...add all the ingredients in the same order and put on low for 6-8 hours. Yum!
Recommended cooking tools for this recipe
I have this exact pan and lid and it works great. (Note, the lid is not oven safe…use aluminum foil when baking.)  I also have a pan without a lid and that is frustrating…definately go with the lid version for leftovers.
If I would buy a pan over again, I'd get one with a lid that snaps on, more like this one. The red one on this page works, but it isn't tight-fitting.
I've lost many spatulas to a broken handle. I currently have one similar to this that is a "all in one" style…no separate handle in a different material that will break off and I love it. I also love that this one measures 1 1/2 inches across…most "all in one" styles are massive (more for grilling) and not so good for getting eggsbake, brownies, etc out of a pan.