Hello friend!
A few years ago, when I was a brand new farm wife (and I had grown up in an era and non-farm area where locally grown meat was rare and therefore I had zero experience at ordering meat from a farmer,) someone from my brand-new, in-laws farm family, sold us a half hog. I was excited to get some real meat and called up the processor to request my cuts as I had been told. When they got to the ham section, I was asked "do you want your hams fresh or cured?"
(Fresh? Like…what's the opposite of fresh meat? 😣 And I wasn't exactly sure what "cured" was either… Hey, I was 23, had barely ever cooked a full meal in my life, and had only just graduated from college…with evidently not enough education…….🤦‍♀️ Good grief…)
I asked which was cheaper and, based on that, went with the fresh option.
(FYI, not the best way to pick meat cuts….🤨)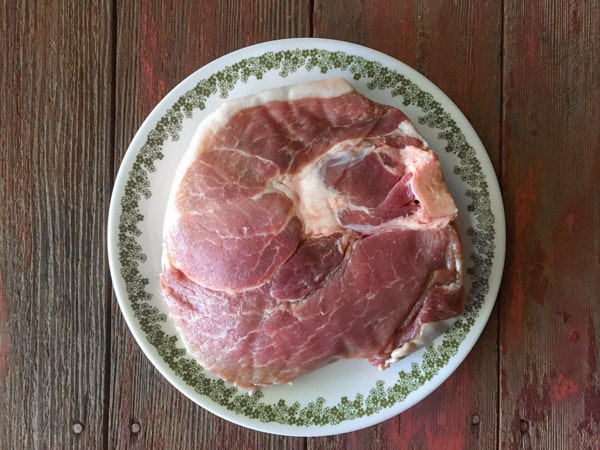 Fast forward a few weeks and I'm excited about my brand new, farmer fresh, pork.
I put a ham in the crock pot (noting that it didn't seem to have the same smell as I was expecting ham to have…) and a few hours later, as we sat down to supper I'm wondering what exactly happened. The meat was great, but it most definitely NOT ham.
Well, of course it was HAM…technically speaking, a cut of pork from the back end of a hog….but it turns out that hams come with a traditional smoky flavor and pinkish color of the curing process AND they also can come all-natural, looking more like a shoulder roast, with no added preservatives or processing.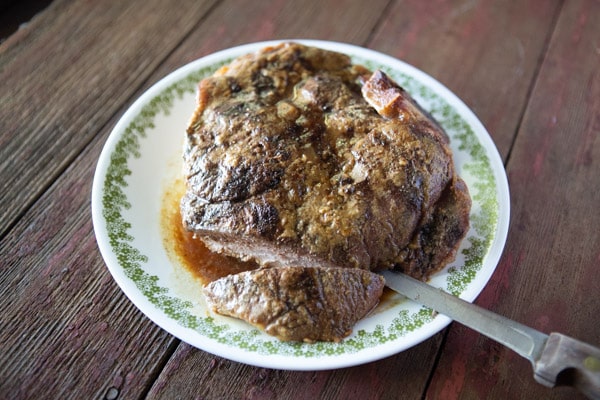 Back in the days before refrigerators, meat was salted and smoked to preserve it to be eaten at another time. Because this does end up making meat quite tasty, we still do a similar process now, although there are more preservatives and artificial flavorings nowadays.
Over the years, folks have shown allergies to these added processes and other significant health issues when consumed in larger quantities.
So, because most of us have access to freezers and refrigerators, we don't need to depend on various preservatives to keep our meat eatable and instead can choose to get the meat all-natural, as it came from the hog. 🐷
In no way does this mean we eat flavorless meat, though!
Today, I'd like a share a recipe I tried twice in the last couple months and we love it!
I don't know if we'll be giving up smoked hams anytime soon, but it's wonderful to know of a healthy option for our family too!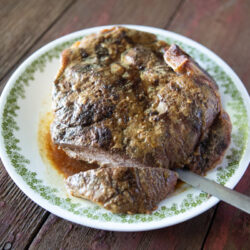 Dijon Apple Baked Fresh Ham
Equipment
1 roasting pan that will fit the ham

1 meat thermometer

with an extended probe so the screen is visible outside the oven
Ingredients
1

fresh

not smoked or cured, Berkshire ham, about 4 lbs

salt and pepper

1/4

cup

Dijon mustard

1/4

brown sugar

About 2 cups of apple cider vinegar
Instructions
Thaw your ham completely.

Preheat your oven to 400 degrees.

Mix together the salt and pepper, Dijon mustard, brown sugar and apple cider vinegar.

Set your ham in a roasting pan and

Rub the top of the ham with the spices mixture.

Put a meat thermometer in the meat at the thickest spot.

Without adding a lid or foil, bake your ham for 20 minutes at 400 degrees.

Turn down the oven to 325 degrees until the internal temperature shows 145.

Remove ham from oven and cover with foil or a lid for 30 additional minutes. The internal temperature will rise and that's OK.
If you try this recipe, please note the bake times and temperatures…this is a big deal for this cut of meat.
If you're a "throw it in the crock pot" kind of person, hang with me…..so am I….but this is super simple. Just put your seasoned ham (as described in the recipe) in the oven for 20 minutes at 400 degrees, then turn down the oven to 325 for the next 1.5 hours or so and you'll have a fantastically flavored ham, preservative free! 🥰
Let me know what you think or if you have a different fresh ham recipe you like! 😊
---
Farm news September 27, 2021
We have lots of new baby piglets by now! 🥰  I made a video below of them playing in the barn yesterday.
We have just one mama waiting yet. Tulip is due later this week. Here's a picture of her from yesterday:
Generally, I think it's hard to see a pregnant lady belly on pigs…but this one…….I'm pretty sure all you who have never raised pigs can tell that this one will be having some little ones soon. She's going to be one relieved mama!
(Also super excited to see if her babies have lots of spots….she does, and I'm told her mother did too! 😊 )