Hello friend!
This time of the year is getting busy for us, so I tend to favor crock pot meals.
Preferably ones easy to prepare and fabulous to eat. 😁
We hadn't had pork spare ribs in awhile, and I wanted to try a sauce on them, so I mixed everything together, turned the crockpot on for 8 hours and…voila….they turned out super well!
It's hard to have something NOT turn out well in the crockpot, but we were especially impressed by these ribs.
They start with an easy homemade BBQ sauce…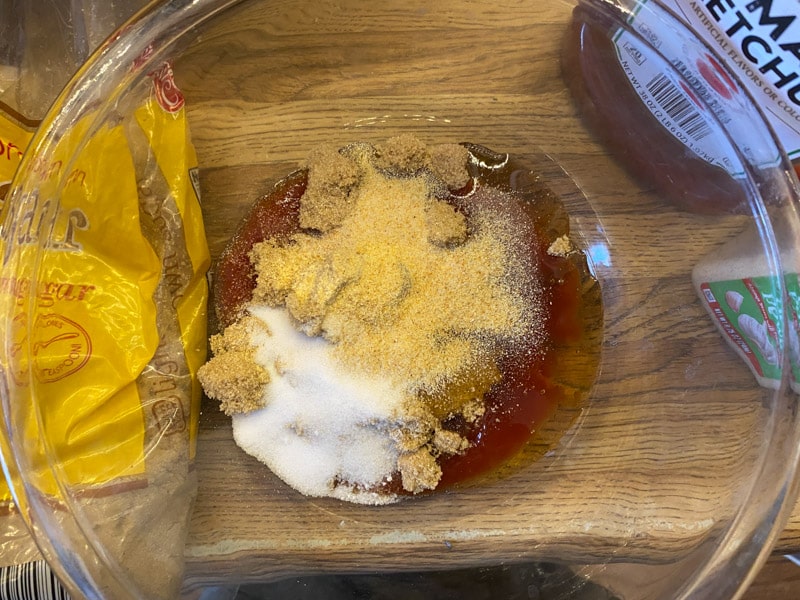 …then layering the ribs in the crockpot, covered in the sauce (I tripled the recipe for our family)…
…and after 8 hours, they were falling-off-the-bone ready to go!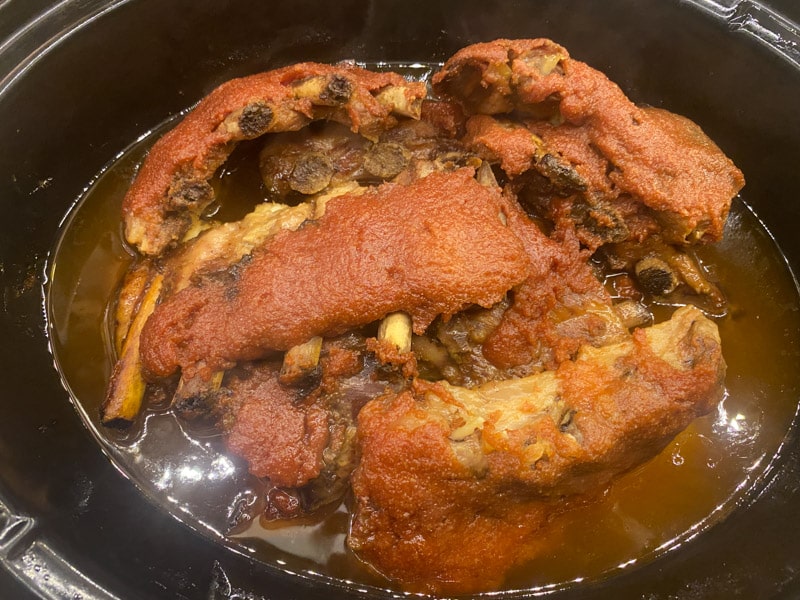 I'd recommend this for your next busy day supper. 😊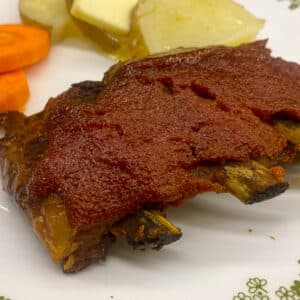 Crockpot Sweet Ribs
Try these easy to prepare pork spare ribs, smothered in a homemade BBQ sauce.
Ingredients
Homemade BBQ sauce
1/2

cup

ketchup

1/2

cup

brown sugar

1/3

cup

honey

1/2

tsp

salt

1 1/2

tsp

granulated garlic
Instructions
Thaw your spare ribs and criss/cross in crockpot.

Mix together the BBQ sauce and drizzle over the ribs.

Turn crockpot on low for 8 hours.

Enjoy the finger-lickin' good ribs at the end of the day.
---
A Peek at our Week…mid February 2022
114 days ago, I observed some attention by Boris the boar towards some of the sows.
This means that February 16th, could potentially be the giving us the first spring 2022 piglets born on our farm!
I suspect 2 sows in particular….
Petal was doing a little nesting yesterday (or digging for food?) and her milkline is completely filled in. She doesn't look very big though….so either she has only a couple in there (pigs may have 12-14 piglets or so…she doesn't look at big), or she has a ways to go. She's also my oldest sow, so who knows… 🤷‍♀️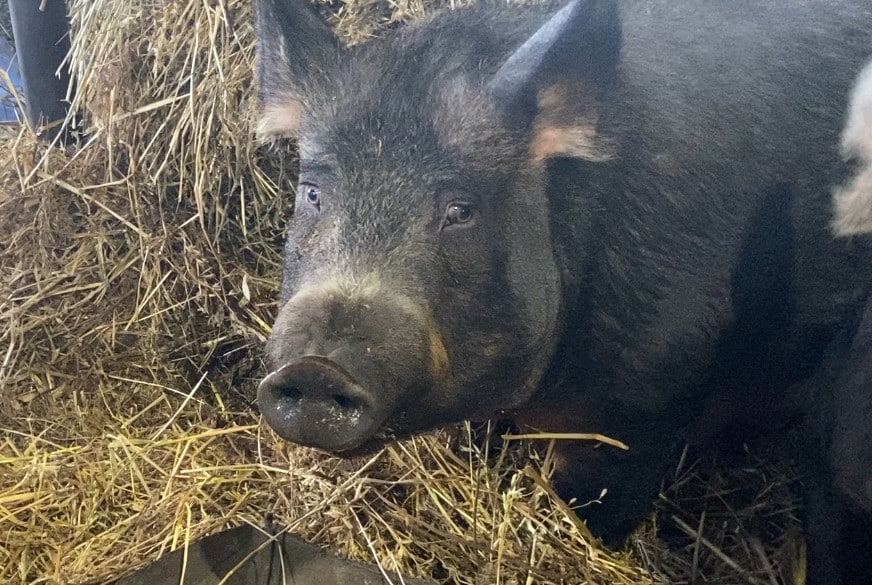 Sow 5 (she looks like her two sisters…….I really can't tell them apart to name them, except by eartags…) is looking full along the milkline too.
She doesn't seem to really look ready otherwise though…she seems light on her feet.
If you've ever been or seen a pregnant human lady, you would likely not describe an end of term pregnancy walk to be "light on her feet". 😁 Same with pigs. She looks bigger….but I also saw her friendly towards Boris for a March 6th due date. Time will tell, I guess!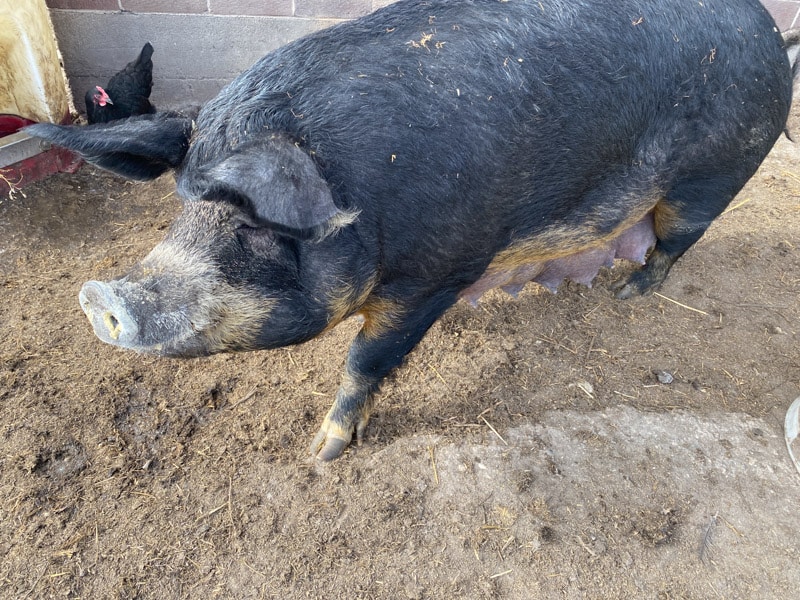 Even though I don't truly know when the first piglets will come, we took Boris out of the sow pen yesterday.
Sometimes male animals are not nice to cute baby animals, and male pigs can be the same. Some are ok, but I'd rather not find out the hard way. He's now just across the alley from his ladies, so he won't get too lonely over the next couple weeks.
So far he's enjoying not having to share his food. 😄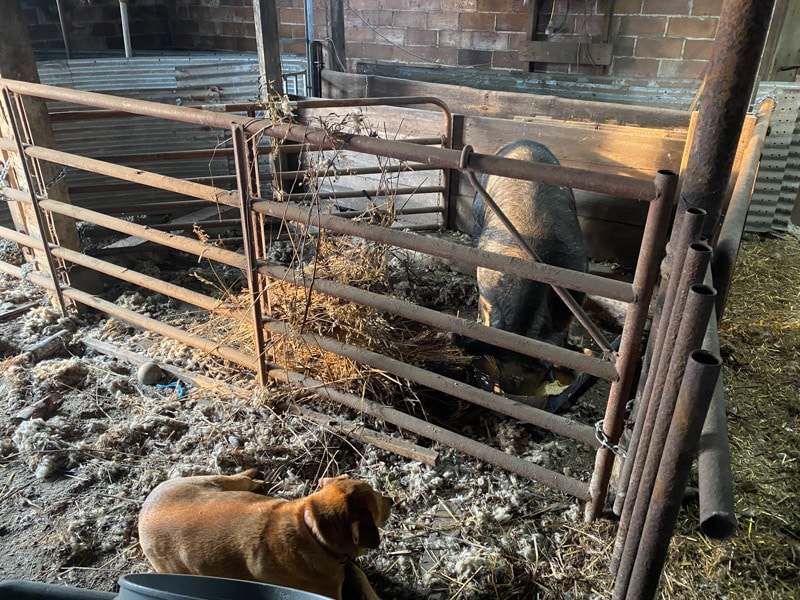 On the other side of the yard, we still have the younger grower pigs and my favorite little Mangalitsas who will be mothers in August.
They spend most of the winter snuggling up in the warm straw in the barn.
Except one day a week or so ago…..they were out running in the warm sun and bright snow. So adorable!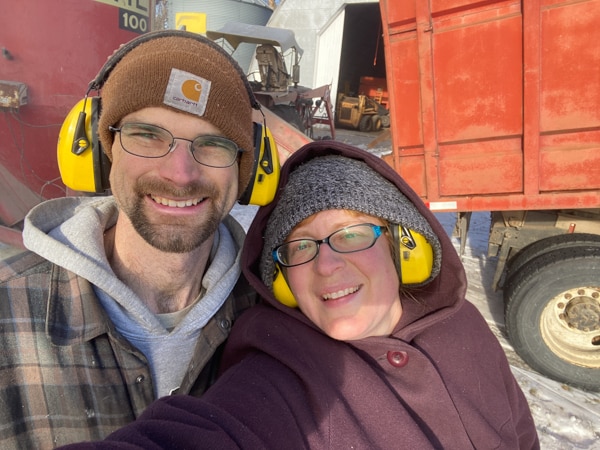 Naomi and the gang
---
Pork mentioned on this page