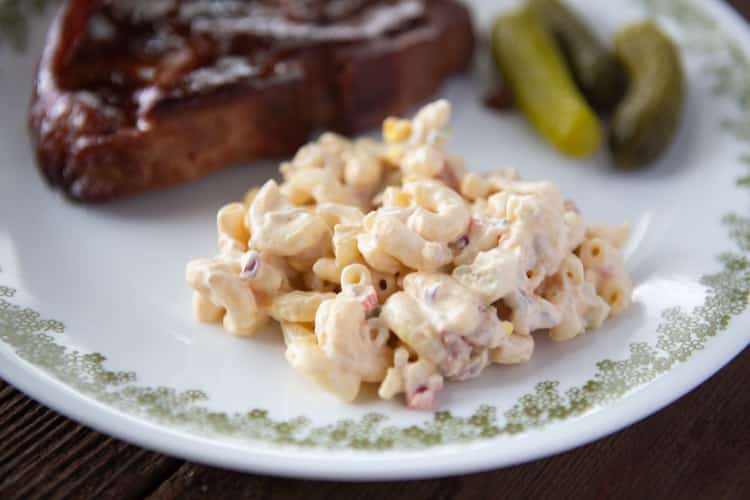 Is grilling on your mind lately?
Between Father's Day tomorrow and 4th of July coming up in a couple weeks, plus just the fact that summer and warm weather is here, it's hard to NOT think about grilling.
I've been grilling pork chops and smoking pork shoulder and also grilling some brats. These cheddar ones have been a big favorite!
It's hard to pick just one good one.
But with all those lovely meats, it's always nice to have something along side.
I recent made a fabulous (and simple!) macaroni salad. Goes well with any grilled meat.
It can be made the night before (to help the flavors mix well together) which also helps to remove additional stress of meal preparation the day of.
I'd definitely recommend it!
Ingredients
Macaroni: Any shape noodle works. I used elbow macaroni.
Sweet Pickle Relish: You can also buy the sweet pickles whole and dice them up. The relish is definitely a time saver.
Green pepper, celery, onions: I used fresh veggies for this. I wouldn't recommend any that been frozen because that extra crunch you get from the fresh veggies is totally worth it.
Hardboiled eggs: If you are blessed to have fresh eggs available to you, make sure they are "aged" a couple days on at room temperature so they peel well.
Mayonnaise: Make sure it's real, not the weird "salad dressing" or whatever they try to call it…
Sour cream: Of course. Extra creamy
Vinegar: I used plain vinegar because I didn't happen to have red wine vinegar in the house.
Sugar: Plain white granulated is great.
Dijon Mustard: For the tang.
Salt, pepper and garlic: To top off the amazing salad.
Substitutions
The substitutions are minor for this recipe. You can use whatever shape noodle you'd like. And the vinegar can be red wine or plain.
Farm Kitchen Cooking Tips
I'd really recommend making this salad the day before you want to serve it. This helps the flavors really mix together well.
Also, make sure you rinse the noodles in cold water after cooking them. If you don't, the macaroni stays warm and can get gooey. It can also turn the dressing part of the salad into a drippy gross mess.
This recipe easily doubles or triples. I made it once for a large party of people and it was still superb, it just took longer to cut up all the veggies.
Equipment to use
I would recommend starting with a bowl much larger than the size of the dry macaroni. The macaroni itself gets larger as it cooks, but it always surprises me how much space the rest of the ingredients takes up as you add them. In addition, you'll need to be able to stir everything together well.
Storing Leftovers
I will mix this up in a large bowl, but then when storing, I'll keep it in an empty ice cream pail. Make sure to snap the lid on tight so fridge flavors don't mix with it. It can store well in the fridge for up to a week, although the dressing can get a little watery after a few days. You can stir it up again to keep everything looking nice.
What goes well with Macaroni Salad
I LOVE this salad for a picnic or BBQ. Nothing screams awesome summer meals more than a great macaroni salad. This goes well with any meat like pork chops, hamburgers or brats/hotdogs and other picnic fixings like pickles, chips and deviled eggs. Yum!
How to make this recipe
Boil the macaroni (making sure not to over-cook it) and then rinse under cold water.
Slice and dice all the salad ingredients.
Add macaroni and all salad ingredients together and stir well.
Mix the salad dressing together and pour over the rest of the salad. Stir well.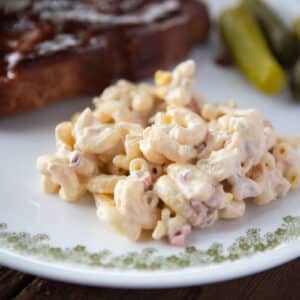 Classic Macaroni Salad
This macaroni salad recipe is perfect for any summer family gathering and pork grill-out.
Ingredients
Salad ingredients
8

oz

uncooked macaroni

1/2

cup

sweet pickle relish

1/2

cup

finely diced red or green pepper

1/3

cup

thinly sliced celery

1/4

cup

finely diced red onion

2

large

cooled hardboiled eggs, finely diced
Salad Dressing
3/4

cup

real mayonnaise

1/4

cup

sour cream

1

tbsp

red wine vinegar

regular vinegar works too

1

tbsp

granulated sugar

2

tsp

dijon mustard

1/4

tsp

salt

1/4

tsp

pepper

1/4

tsp

garlic
Instructions
Slice and dice all the salad ingredients except the macaroni.

Cook macaroni to al dente (just cooked, but still slightly firm) and run with cold water to stop cooking and keep the noodles from sticking together.

Add macaroni and all salad ingredients together and stir well.

Mix the salad dressing together and pour over the rest of the salad. Stir well.

Refrigerate at least 3 hours prior to serving, overnight is even better to help the flavors mix well.