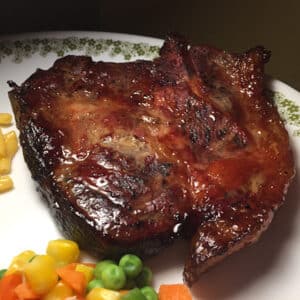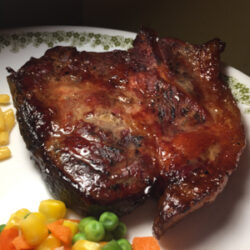 Sweet Smoked Pork Chops
Time to fire up the smoker and bring out these mouthwatering sweet and smoky pork chops!
Ingredients
2 farm fresh pork chops
Sauce:
1 tbsp of brown sugar
2 tbsp of honey
4 tbsp of ketchup
1/2 tsp of garlic
1/4 tsp salt
1/2 tsp of soy sauce optional
Instructions
Mix together the sauce ingredients.

Rub the sauce onto both sides of each chop.

Cover and refrigerate for at least 2 hours.

Smoke for 1-2 hours, depending on your smoker and the season. Remove from smoker when the meat is 145 degrees.
Recommended cooking tools for this recipe
I have this exact thermometer and it works AMAZING. I've had many thermometers fail for various reasons by this one is dependable and the long wire between the screen and the probe is great for a smoker.
For getting those steaks off without burning your fingertips. 😉