Lasagna is so so good, but can be kind of tedius and time consuming to put together. This resemblance of lasagna tastes just as good and has almost no prep.
I do believe, this is the easiest/fastest to prepare hotdish out there.
What makes it fast? The macaroni goes into the pan uncooked!
That's right, dump all the ingredients into the baking pan and leave it in the oven for an hour and ✨ you have supper ready before you know it.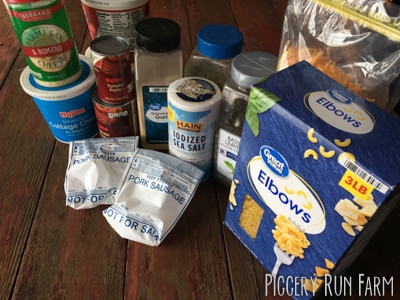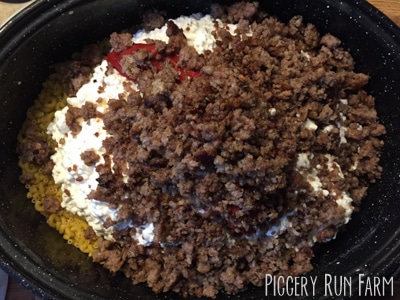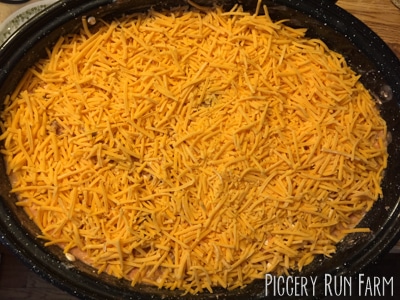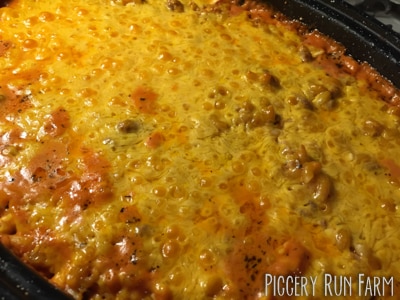 This recipe is great for a crowd too – simply double or triple the recipe.
Or you can double or triple just for leftovers…it reheats well and tastes even better the second time around because the flavors have melded together.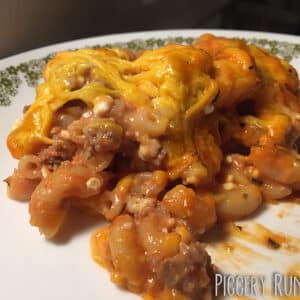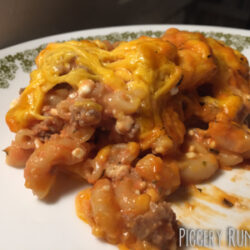 Lasagna Hotdish
The fastest, yummiest lasagna you'll ever make.
Ingredients
1 lb of raw macaroni any style
1 lb of pork sausage
1 6 oz can of tomato paste
4 6 oz cans of water using the tomato paste can
1 24 oz container of cottage cheese
1/2 tsp of salt
1 tsp of garlic
1 tsp of onion powder
1 tbsp of basil
1 tbsp of oregano
1-2 cups of shredded cheese
Instructions
Brown the pork sausage.

Preheat oven to 375 degrees.

Add raw macaroni, browned pork sausage, tomato paste, water, seasonings, and cottage cheese to casserole dish.

Stir well.

Top with as much cheese as you'd like. Adding several different kinds such as mozzarella, parmesan and cheddar makes for a fantastic flavor.

Cover with lid or aluminum foil and bake for 1 hour at 375 degrees. If you're doubling it, I would add an extra 15-20 minutes to the bake time or the noodles might be a little rubbery.
Notes
I would recommend a 7 qt baking dish for making this recipe as it's written. However, it's simple to double or triple if you have a large family or are cooking for a crowd.   Just make sure you have a large enough dish - keep in mind the macaroni will expand a little as it bakes. This recipe easily reheats and even tastes better the second or third time as the flavors have melded together.  I double this recipe for our family of 7 to make enough for a meal and a couple leftover meals.
Recommended cooking tools for this recipe
7 qt pan size for a full recipe.
Back when our family was smaller, I used this exact pan and loved it!
12 qt pan size for a doubled recipe.
I use this pan all the time for our large family!
A big beautiful service spoon
Measuring spoons for the spices