Before we had children enter our household, my husband and I would have BLTs here and there, especially in the later summer when the fresh tomatoes and leafy greens were plentiful.
But since the addition of multiple children, the days of BLTs have fallen behind us. Even with a 4-hole toaster, it takes forever to make enough for everyone without having supper run into a 2 hour long occasion.
Plus there's always the kids who put up resistance to vegetables. 🙄
But this recipe came to me again recently and it works to serve a large group, plus it "hides" the vegetables a little more. 😂
Mix up a quick batch of BLT spread for everyone to enjoy today!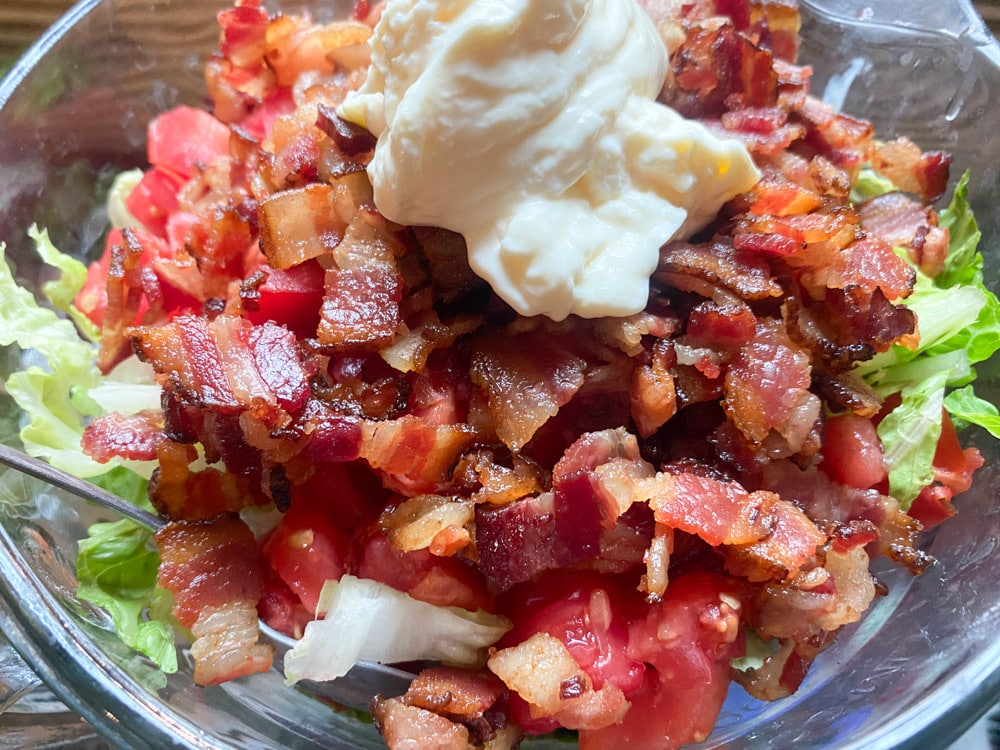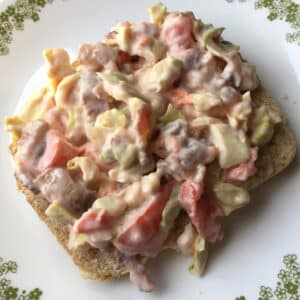 BLT Spread
All the BLT goodness in a delicious and easy to prepare spread
Ingredients
1/4

cup

cooked

crumbled bacon

1

cup

of sliced leafy greens such as lettuce

spinach, kale, etc

1/2

cubed tomatoes

1/2

cup

mayonnaise

Salt and pepper to taste

4-6

slices

of bread
Instructions
Stir together fresh tomatoes, leafy greens, bacon and mayo and spread on bread.

It doesn't get much simpler than that! Enjoy!
Notes
As with most recipes on this site, the amount of each of the ingredients is somewhat variable. Add as much bacon to greens/tomatoes as you like!
Kale or Romaine lettuce works best because it keeps its "form" best.  Iceburg lettuce tended to get limp pretty quickly.
I usually slice raw bacon into thin strips and cook a bunch at a time. It will keep well in the fridge and makes it super easy to add to this and other recipes on short notice.
Although I'm the queen of making one meal and living on a couple additional meals of leftovers, this one I make a new batch every time. I found it got kind of watery sitting in the fridge, which makes your bread gooey.  It's pretty quick to cut up all the ingredients and store them separately and then mix them together for a quick, bacon-filled, meal!