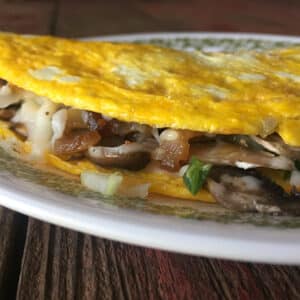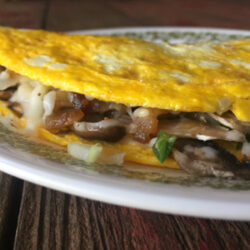 Farm Fresh Omelettes
Ingredients
3 eggs
oil/grease
green peppers
onions
mushrooms
cheese
sausage/bacon/ham
salt
pepper
Instructions
1. Start a 10 inch non-stick frying pan warming on the stove with low heat. Add oil, depending on the non-stickiness of your pan.

2. Crack and scramble 3 eggs into a small bowl.

3. Add the eggs to the pan.

4. Let them cook for a few minutes without stirring. The time will vary depending on your heat.

5. When your eggs are mostly cooked through (a little soft and runny on top, but when you push a spatula under it, it will hold it's shape), slip a spatula under the circular egg shape and in one smooth motion, flip it entirely over.

6. Leave the heat on for another minute or so while you add the toppings.

7. You can add whatever you want in whatever quantities. Add it to just one half of the egg circle.

8. Fold the omelette in half and put a lid on the pan to melt the cheese through.
Notes
Making omelettes is something that gets easier with time...and in our house, no one minded while I practiced since it involved bacon and melted cheese. ???? (Sometimes that flipping part ended up not entirely circular...) A non-stick pan of any sort is absolutely necessary. Even with bacon grease or other oil, my older, supposedly-non-stick-but-wearing-out pans do not work out very well. I keep the heat as low as possible. Sometimes I'll turn it up a tiny bit to speed along meal prep, but be careful...too much and you have a toasty brownish layer on the bottom, which isn't overly delicious. I have 4 10in frying pans on each of the 4 burners of the stove to make enough for our family of 7 for one meal (and so it doesn't take me 2 hours to make a meal...)  Using more than one pan to prepare a meal for a family of any size is definitely recommended.
Recommended cooking tools for this recipe
I ordered two of these recently, due to my older pans losing their non-stick-ness.  I'll keep you posted on how well they work. 😉 
I prefer the more sturdy spatulas for making omelettes. It helps be able to flip the egg over without ripping it.