Everyone at our house LOVES biscuits and gravy.
But it's not the fastest meal ever to make (so it's a good thing it tastes so good! 😄)
The biscuits in particular take awhile to not only mix the dough, but then to bake them all. We have a family of 7 and usually everyone has at least 2 biscuits….you do the math…
But I found a casserole version of this recipe that I was excited to try.
All the biscuits and gravy all in one pan!
First the biscuits go in the pan.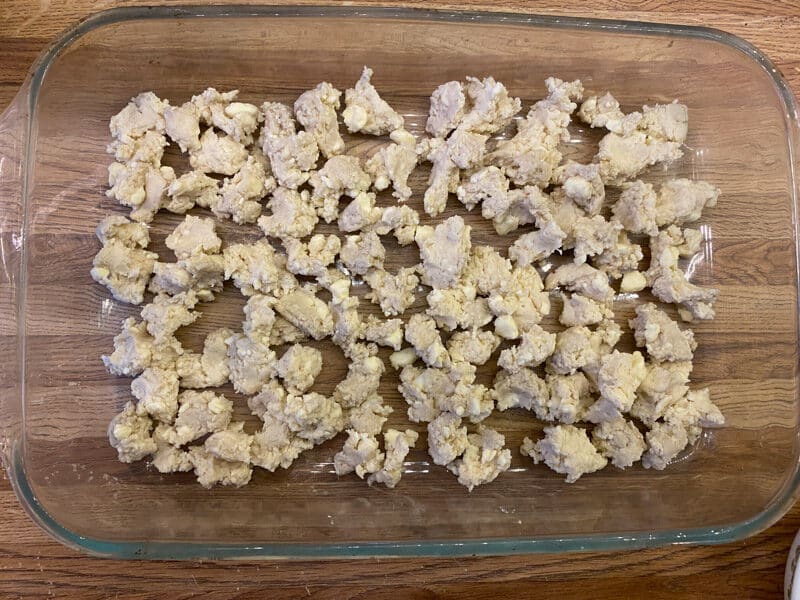 Then the sausage.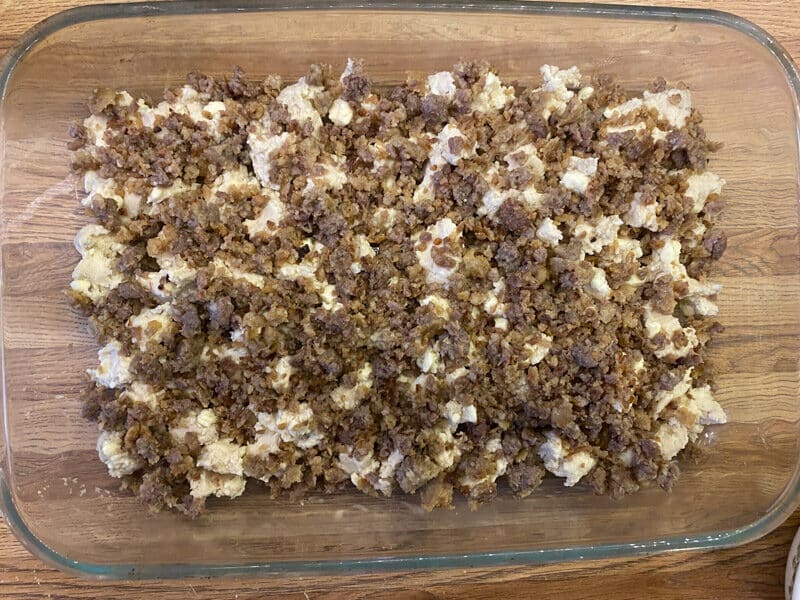 Then the eggs, gravy and cheese.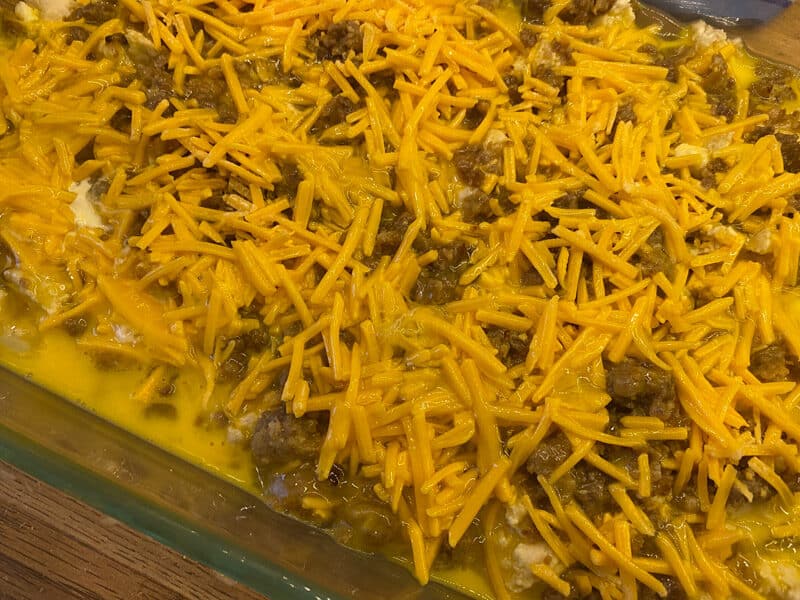 And before you know it, it's time to eat!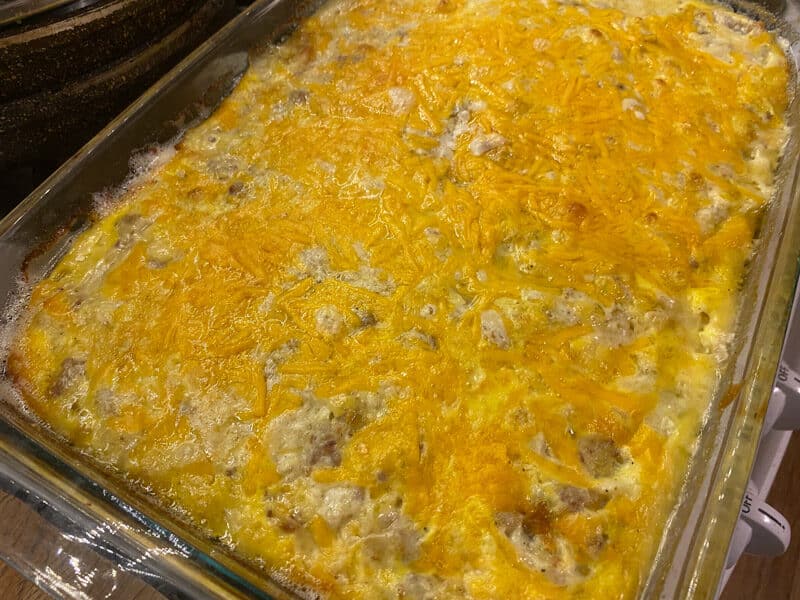 Yum!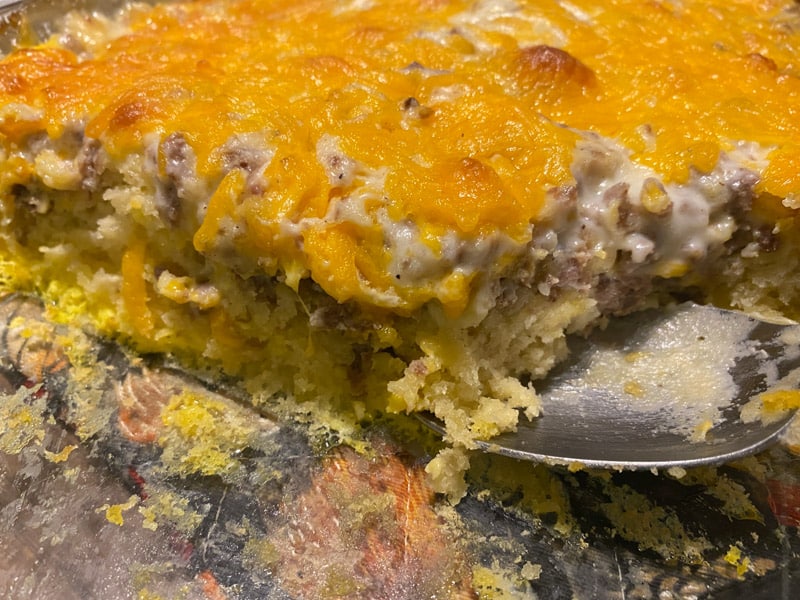 Try it for your family! 😋😋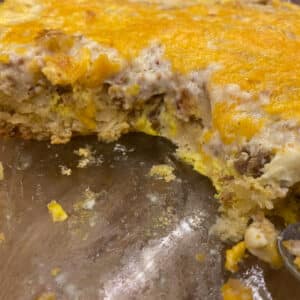 Biscuits and Gravy Casserole
An easy way to make biscuits and gravy for the whole family.
Ingredients
1

lb

tube of refrigerated biscuits or homemade (recipe below)

1

lb

pork breakfast sausage

1/4

cup

flour

2.5

cups

milk

divided

1/4

tsp

garlic powder

1/2

tsp

salt

1/2

tsp

pepper

7

farm fresh eggs

4

oz

shredded cheese
Homemade Biscuits
2

cups

flour

1

tbsp

baking powder

1

tbsp

sugar

1

tsp

salt

6

tbsp

salted butter

cold

3/4

cup

milk
Instructions
Start the pork sausage to brown in a small kettle.

Cut up pieces of the tubed biscuits or homemade biscuits and cover the bottom of the 9×13 pan.

After the sausage is cooked, remove about 3/4 of it, leaving a little to make the gravy. Turn off the heat to the pan.

Add the flour to the remaining sausage and grease. Whisk until the sausage is fully covered in flour.

Turn the stove heat back on a low heat and add the 2 cups of milk, garlic, salt and pepper. Whisk until thick.

While the gravy is thickening, scramble the eggs and 1/2 cup of milk.

Add the plain sausage to the biscuits in the pan.

Pour eggs over the sausage and biscuits.

Pour gravy on top of eggs and sausage and biscuits. Sprinkle cheese on top.

Bake for about 45 minutes uncovered.
---
A peek at our week…Earlyish March, 2022
This week, my husband has a week off school so I put us to work!
The goal was to clean all the old bedding out of the farrowing barn so the last 4 sows could give birth in a warmer building.
So, after starting out like this…..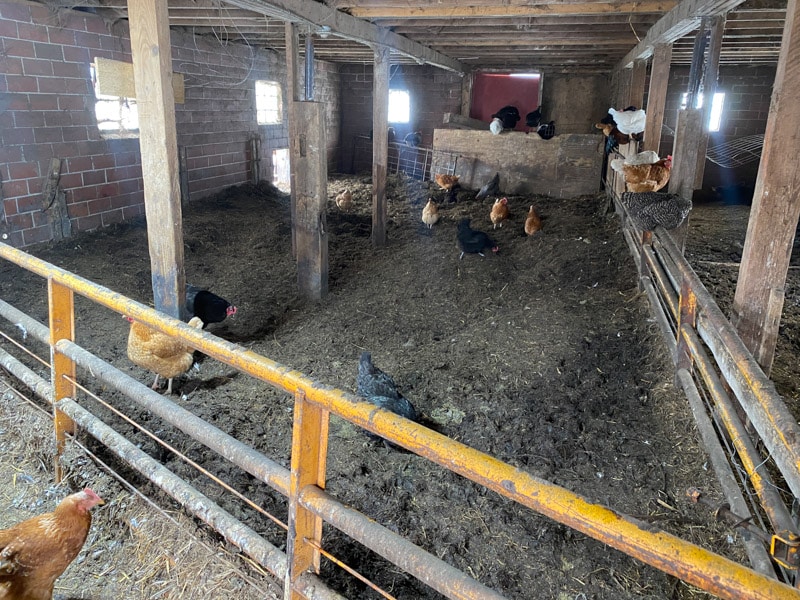 And then this….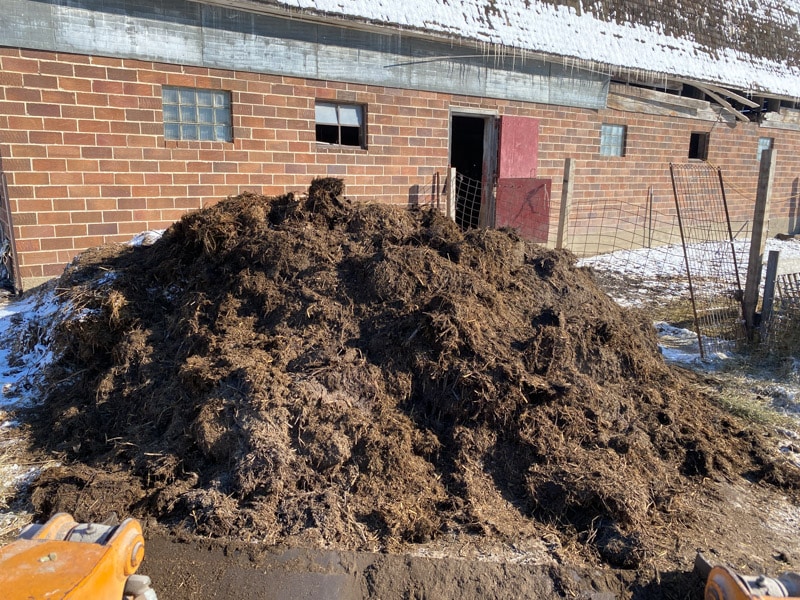 It now looks like this!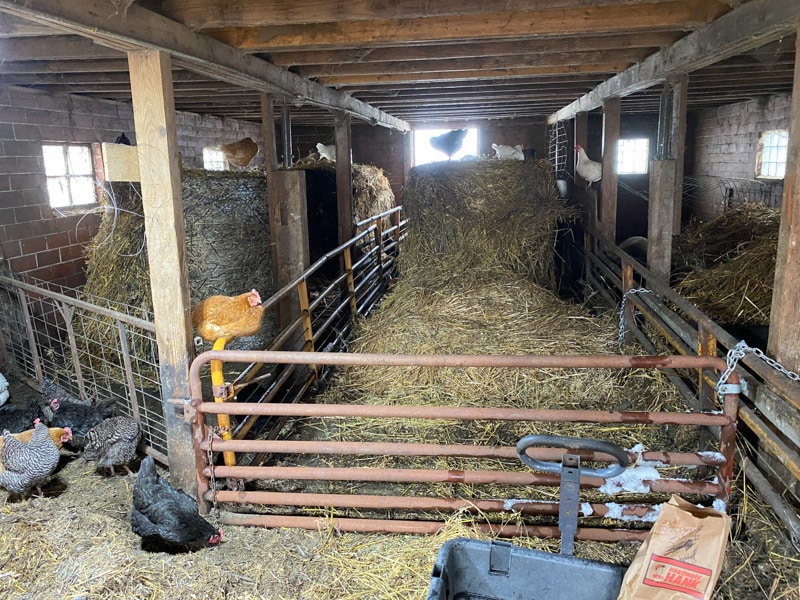 The chickens didn't move much. 😄
Pigs love nothing better than to destroy something 😄 so we just put in the bales of straw and they happily dig through it, eating the grains and tearing it down into bedding.
These bales are big and heavy….it takes FOREVER to get it off with our little human hands.
But those pig snouts spend all day, happily bedding their own beds. 💕
We are also heading into mud season, so we packed these bales in there more than we normally might have….we may not be able to move around out in the yard with the skid loader pretty soon…. 😖
While we were cleaning, it's fun to watch the chickens…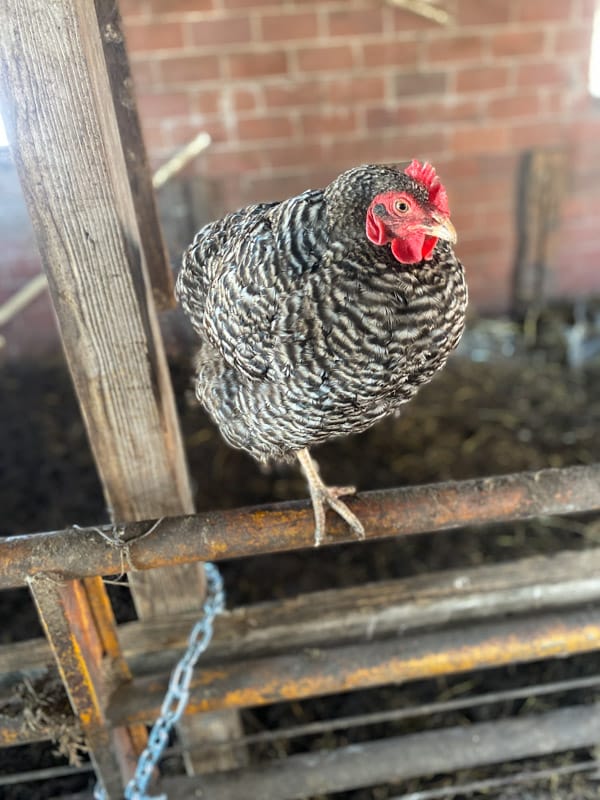 This one's warming her left leg. 😄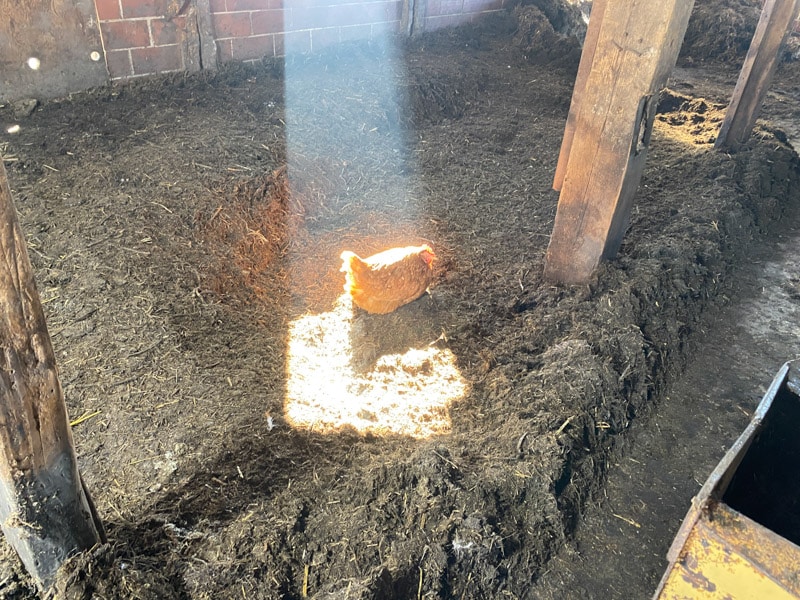 This one found a patch of sun and a loud skid loader didn't deter her. 😁
Here was one of the mama pigs, less than 24 hours before she had her babies…..that looks painful doesn't it. 😫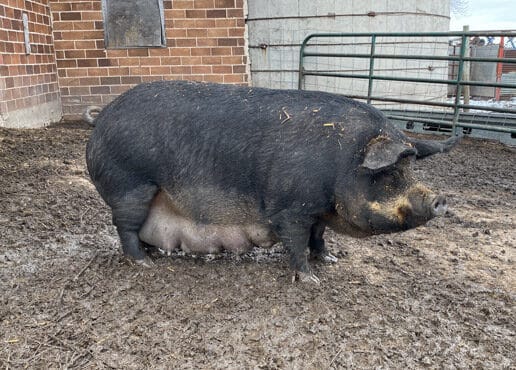 We made it just in time with all the barn prep….the morning of March 9th, two sows had their piglets!
Here's one sow's litter as I found them…
One had 8 living, and the other had 6. Not the best litter numbers, but I'll take them.
There is only 1 piglet left from the first 3 sows that had theirs 3 weeks ago. 😣 Not thrilled with the reproduction issues of this new boar….likely he won't be here long. I'm on the lookout for a new guy. Healthy sows like these should have at least 12, hopefully 10 living. One of my mothers had 17 last fall (I think 10 were weaned).
Well anyway, wishing you all warmer days ahead! I see it's supposed to be in the 60s next week. We can hope. 😊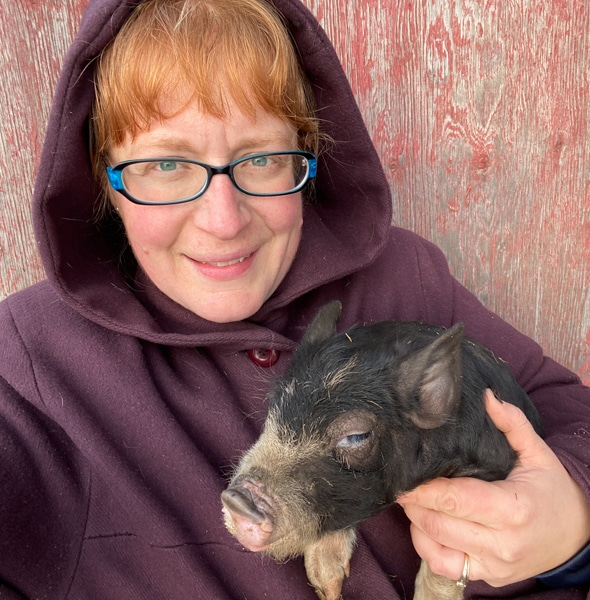 Many spring wishes from us to you,
Naomi J